Why These 3 LGBTQ Candidates Are Running For Office In The Deep-Red State Of Texas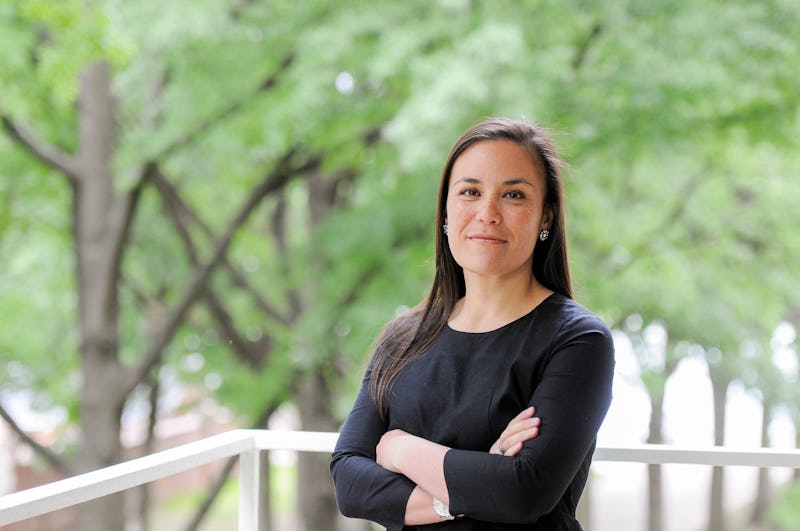 Ana Isabel Photography/Gina Ortiz Jones For Congress
In one state, the number of LGBTQ people running for office reached at least 49 this year. There's a trans woman running for the mayor of a town of 600 people, and a lesbian vet running for U.S. Congress in one of the least populated districts in the country. And don't forget the two LGBTQ people running for governor. Given the recent advancements in gay and trans rights, this might not surprise you in most states. But this is Texas, and this year's number of LGBTQ candidates is without precedent.
The Texas primary election is Tuesday. Although most are Democrats, there are LGBTQ candidates running on both sides of the aisle — and somewhere in the middle, there is at least one libertarian. Nearly half of the candidates are women, six are transgender, and 11 are people of color, according to a list by Out Smart, a local LGBTQ magazine.
That's the most of any red state ever, according to Elliot Imse, communications director at the Victory Fund, a PAC dedicated to increasing the number of LGBTQ people elected to office across the country. "It is a historic opportunity to increase our representation in a state that certainly needs it," Imse tells Bustle.
He pointed to recent anti-gay and anti-trans legislation introduced (and passed) in Texas. Last year a bathroom bill was debated for much of the year — drawing opposition from business and activists alike — while an anti-LGBTQ "religious freedom" adoption bill was signed into law.
"The Texas state legislature continues to introduce and consider toxic anti-LGBTQ bills that harm our community, and the result is LGBTQ leaders standing up and running for office so they can be a voice for equality in the halls of power," Isme tells Bustle.
One of the most prominent candidates in Texas is running for Congress in the state's 23rd Congressional District, hoping to unseat an incumbent Republican in November. Gina Ortiz Jones said that the state of affairs for the LGBTQ community, in Texas and at the federal level, helped her decide to run. "It really made me think about how I can best serve my country and my community," Jones tells Bustle.
Jones has 14 years of national security experience, including time serving in the military under "Don't Ask, Don't Tell." She said that fostering the talent pipeline is vital to keep the country safe, and governmental policies like Trump's attempted trans ban would plug it up.
For a largely rural district in a red state, LGBTQ rights at a local level are also something Jones points to as a crucial need. "There's certainly not enough local legislation," Jones tells Bustle.
"San Antonio recently passed an ordinance that would prevent discrimination against the LGBTQ community," she says. "However, we have a long way to go. One in 10 kids in this country goes to school in Texas. The protections that the Department of Education is looking to roll back, that is going to affect a significant amount of kids."
The fight in the state legislature on trans rights last year inspired Fran Watson of Houston to run for office. Watson, who would be the first openly lesbian and third black woman elected to the state senate, tells Bustle that what made up her mind to run were the trips to Austin to speak out about the "trans oppressive bill," as she calls SB6, the bathroom bill.
"It feels in a way like a responsibility and a charge," Watson tells Bustle of her run. She says her campaign is the "people first campaign," and that being elected would be a culmination of the work that advocates have done to get a voice in office.
"We've always had a voice," she says. "But that voice will be a louder because we will have that representation."
On the local level (in small municipalities, the race is not until May 5), LGBTQ people are also running for the first time — even as incumbents. Jess Herbst first joined the city council in New Hope, Texas, in 2003. Since then, she has served in many capacities in the town, even being appointed mayor in 2016 after her predecessor died. She then announced her gender transition in 2017.
Herbst planned to retire from public service after her final term on the council, but after taking on the mayor's responsibilities of ensuring public safety and managing rapid growth and urbanization in the county, Herbst decided to stay on and transition publicly — and run for reelection.
Being an out trans woman has changed things somewhat for the candidate, but in ways that would make most voters pleased. Herbst, who is running against two others in a non-partisan election, says that, if anything, coming out has made her more open.
"I've always been a very open person, but now I feel like I have to even more so. Now I feel like people are looking at a magnifying glass, looking for something to use against me," Herbst tells Bustle, saying she fights that by being totally open and honest. "I have kind of gone overboard on being open simply because I don't want anyone to perceive that I'm trying to hide anything. ... I'm bending over backwards to be more open than probably I would have been."
The massive amount of candidates in Texas also says something about the state itself. Just 15 years ago, gay sex was still illegal in Texas. Only a Supreme Court decision ended that discrimination, though the ban still hasn't been removed from the state penal code. Now, not even a quarter century later, the state could end up electing an LGBTQ governor.
"We are seen as this red state and anti-LGBTQ, but from there, there's a power in the collective and folks really fighting for this change," Watson tells Bustle of the change. "Representation is needed. We have come far, we still have a ways to go, and we should have representation as well to lead that charge."
Herbst also sees Texas as moving forward quickly because of the need for representation. She says up until recently, many LGBTQ people in the state didn't feel safe coming out openly. Now, Herbst tells Bustle, "We realize that we have a place in society. ... There's tons of us and a lot of us have become politically active."
And, of course, the candidates are more than their sexual or gender identity — they would bring years of experience and public service into office. Jones tells Bustle that what she brings to the table, including identifying as a member of the LGBTQ community, has helped her on the campaign. She mentions her record of public service that aligns with the experiences of people in her district.
"The vast majority that I've interacted with are much more encouraged by what I've done and frankly the way I would represent and serve this district," she says.
"Honestly, if me being LGBT were an issue for you, you probably weren't going to vote for me in 2018 anyway. You're not going to please everybody, and frankly you shouldn't try to," she adds. "You can only be who you are and that's got to be good enough."
Jones points out that she is balancing the significance of her identity as an LGBTQ person with the other parts of who she is.
"There are a number of identities that I have, much like all of us," Jones tells Bustle. "I'm certainly aware of the significance of this race and my candidacy. I'd be honored to be the first, but it's more important that I'm not the last."