These Are The Real Heroes Behind Mark Ruffalo's New Movie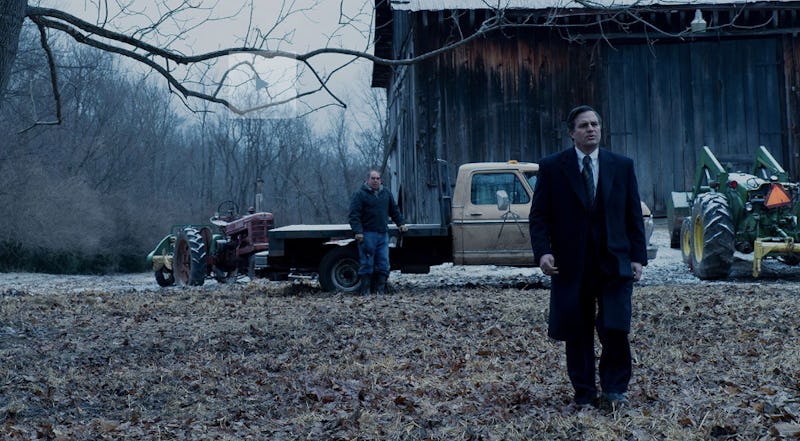 Focus Features
The 2000 film Erin Brockovich was a cultural sensation. Star Julia Roberts won the Academy Award for Best Actress for her portrayal of the titular activist, a legal clerk who uncovered a conspiracy wherein Pacific Gas and Electric Company was knowingly poisoning a California town's water supply. Now, a new film called Dark Waters is shining a light on another true tale of uncovered corporate conspiracy, and the real people behind Dark Waters arguably deserve just as much recognition as Brokovich for doing their part to save lives.
Mark Ruffalo stars in Dark Waters, which is based on Nathaniel Rich's 2016 New York Times Magazine article about corporate defense attorney Rob Bilott, who uncovered an environmental conspiracy involving DuPont chemical company. Bilott worked for Cincinnati law firm Taft, Stettinius & Hollister, where he mostly defended chemical companies against lawsuits. One day in 1998, he received a call out of the blue from a West Virginia farmer who happened to be friends with Bilott's grandmother. The farmer had lost several cattle, and he believed the nearby DuPont chemical landfill was to blame. He had heard that Bilott was an environmental lawyer, but didn't understand that he wasn't the right kind of environmental lawyer. But Bilott, feeling some sort of kinship with the farmer thanks to spending part of his childhood in the man's West Virginia town, took on his case anyway. In doing so, Bilott — much like Brokovich — uncovered that DuPont had been knowingly poisoning the water supply of Parkersburg, WV through the use of the company's toxic chemical PFOA.
But Bilott wasn't the only player involved in this story. Read on to learn more about the real Robert Bilott and others who played a role in this true story of corporate corruption.