The Trump Admin's Latest Environmental Plans Rollback Some Serious Protections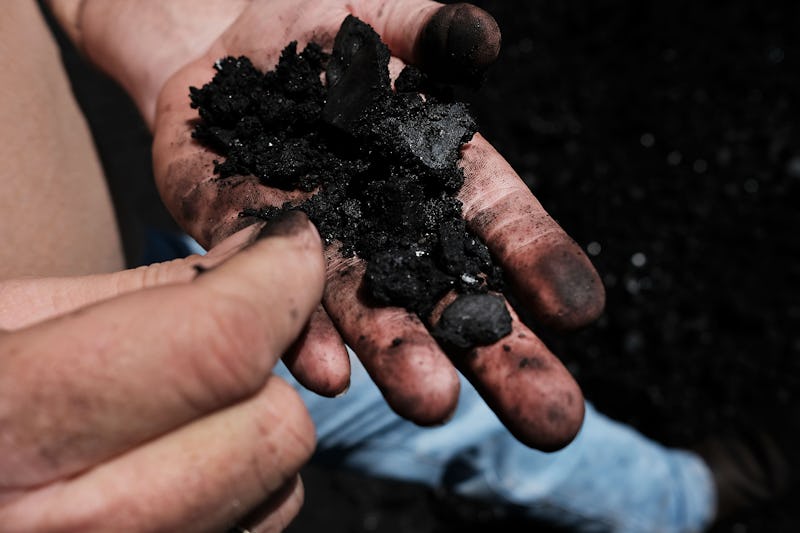 Spencer Platt/Getty Images News/Getty Images
Despite recent warnings on the dangers of climate change, the Trump administration proposed rolling back environmental regulations Thursday in a symbolic win for the coal industry, according to The Guardian. News the Trump administration planned to reverse at least two Obama-era policies aimed at addressing the issue of climate change came just two weeks after 13 federal agencies released a report warning that climate change could have dire consequences for the United States if left unchecked.
"We are rescinding unfair burdens on American energy providers and leveling the playing field so that new energy technologies can be part of America's future," acting U.S. Environmental Protection Agency Administrator Andrew Wheeler said Thursday (via Reuters) when announcing a proposal to roll back an Obama-era rule mandating new coal plants slash their carbon emissions.
Under the EPA's proposed rule, new coal plants would be allowed to emit up to 1,900 pounds of carbon dioxide per megawatt-hour of electricity rather than the 1,400 pounds they're limited to under the previous regulation.
According to CNN, the Trump administration's proposal to reverse regulations on new coal plant emissions isn't likely to result in the construction of any new coal plants right off the bat. That being said, the cable news network reports the proposal is being seen as a sign that the administration wants to support the coal industry.
On Thursday, the U.S. Interior Department also announced a proposal to relax an Obama-era regulation protecting the greater sage grouse, a bird whose conservation status is listed as near threatened by the Encyclopedia of Life. The Trump administration's proposal would allow the greater sage grouse's habitat boundary maps to be redrawn, potentially opening up some of the fowl's habitat to oil and gas leasing, Reuters reported. According to the Sierra Club, Trump's plan would reduce the currently protected 10.7 million acres of sage land — the greater sage grouse's habitat — to just 1.8 million acres.
Opponents of the Trump administration's two proposed rollbacks have criticized the reversals as tone deaf and irresponsible.
"Today's proposal is nothing more than another thoughtless attempt by the Trump Administration to prop up their backwards and false narrative about reviving coal at the expense of science, public safety, and reality," Mary Anne Hitt, the senior director of the Sierra Club's Beyond Coal campaign, said in a statement released Thursday. "This is especially distressing since several new groundbreaking reports were recently released which warn the world about the growing dangers of the climate crisis and its catastrophic implications."
In a separate statement to Reuters, Hitt claimed the president was "delivering on the wish list of the coal and oil industries."
While President Trump has previously decreed climate change to be an "expensive hoax" that he claimed was "created by and for the Chinese in order to make U.S. manufacturing non-competitive," he's since slightly changed his tune. In October, he told 60 Minutes' reporter Lesley Stahl that he thought something was changing, at least temporarily.
"Something's changing, and it'll change back again. I don't think it's a hoax," he said of climate change. "I think there's probably a difference, but I don't know that it's man-made."
More recently, the president reportedly told Voice of America that he was "not going to put the country out of business trying to maintain certain standards that probably don't matter."
Meanwhile, scientists around the world — not to mention the 13 federal agencies behind the recent Congress-mandated National Climate Assessment — have said it does matter. In November, the National Climate Assessment claimed climate change could significantly affect the nation's economy, environment, and population through worsening wildfires, crop failures, and coastal flooding, to name only a few.