A Woman Is Now Leading The US Army's Largest Command For The First Time Ever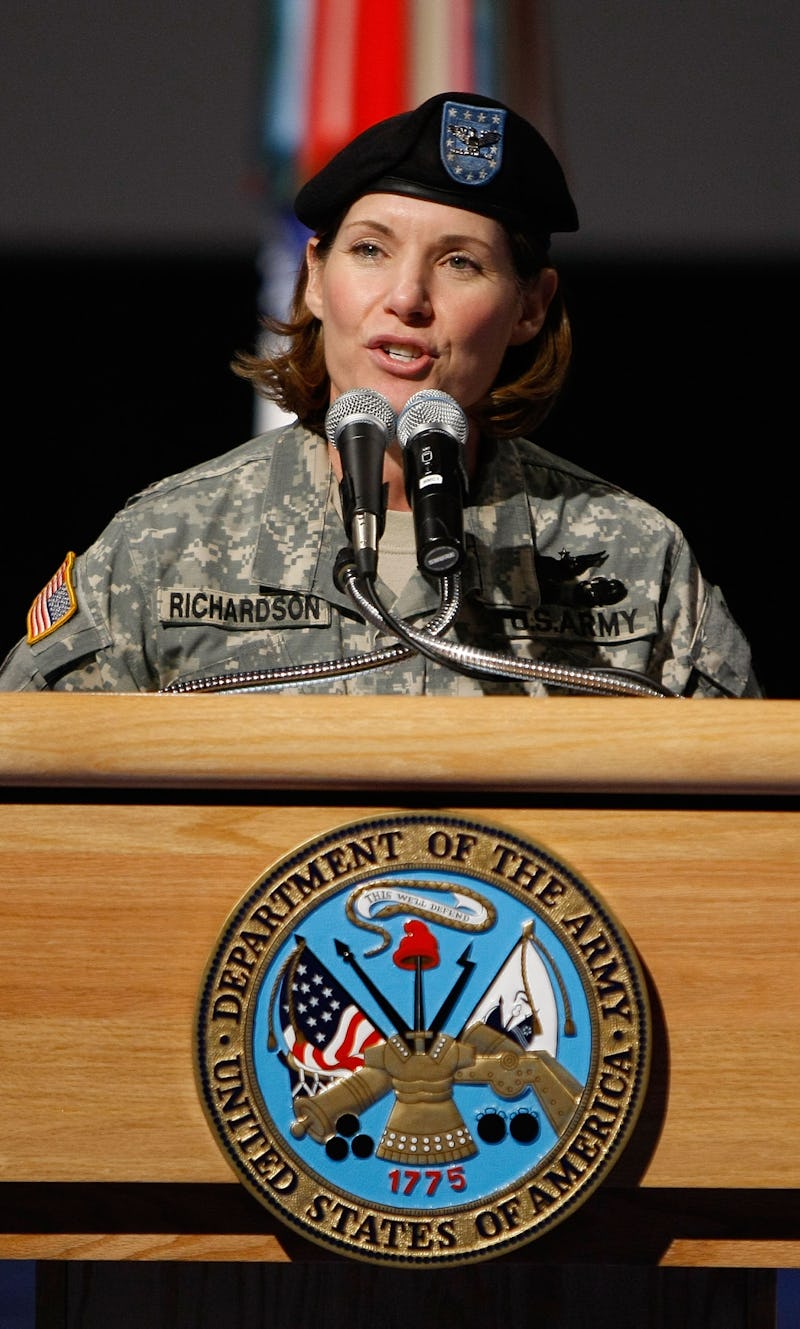 Chip Somodevilla/Getty Images News/Getty Images
For the first time in its history, a woman will lead the United States Army Forces Command, or FORSCOM. Lt. Gen. Laura Richardson will be spearheading the largest command in the army's history, which oversees operations for 776,000 soldiers as well as 96,000 civilians, according to CNN on Wednesday. On Tuesday, WTVD reported that Richardson will temporarily take over from Gen. Robert B. Abrams who is stepping down from his position to work as the commander of the United States Armed Forces Korea.
While speaking of his departure as commander of FORSCOM, Abrams expressed confidence in Richardson, WTVD reported. "Connie and I leave here today knowing that the command is in great hands," he said. "Laura Richardson and this FORSCOM team are going to continue doing what we do best and that's all about readiness until my successor arrives."
The director of public affairs for the U.S.Army Forces Command, Michael Lawhorn, told CNN that Richardson "will continue to be the deputy commander as well as the acting commander during this interim period." He added that she was "one of a number of highly qualified officers that are being considered as potential commanders for the Army's largest command."
Making history doesn't seem to be anything new for Richardson, who has been with the Army since 1986. In addition to becoming the first woman to command the FORSCOM, she was the first woman to work as the deputy commanding general for the 1st Cavalry Division — referred to "America's First Team" — in 2012.
When she was first appointed as the deputy commanding general for the 1st Cavalry Division in 2012, Richardson said, "Each of my assignments — from platoon leader to company commander to the commanding general of the Operational Test Command — has challenged me to learn and excel as a soldier and a leader."
For some, however, the most impressive thing about Richardson's background — who graduated from Metropolitan State College — could be her expertise in aviation; Richardson first received her pilot's license when she was only 16 years old, according to The Fayetteville Observer.
The nominee to officially replace Abrams has not been publicly announced yet. WTVD reported that Army Chief of Staff Gen. Mark A. Milley held the ceremony recognizing the transfer of power from Abrams to Richardson in the interim on Tuesday.
That afternoon, WTVD reported Milley said, "You're going to be in command of this command for a considerable length of time. It will be measured in months, not days or weeks."
Furthermore, Milley said, "We know you are going to do a great job, as we know everyone in FORSCOM is going to do as great a job for Laura Richardson as they did for Abe Abrams."
Based on Abrams' praise for Richardson, it seems like she's the right person to do the job. In 2017, The Fayetteville Observer reported that Abrams lauded Richardson, saying, "She understands the operational force. She understands what it's like being deployed and operational requirements. That is a breadth and depth of assignment history that very, very few officers — particularly general officers — have."