These Hilarious Facial Expressions Basically Define Super Bowl 2018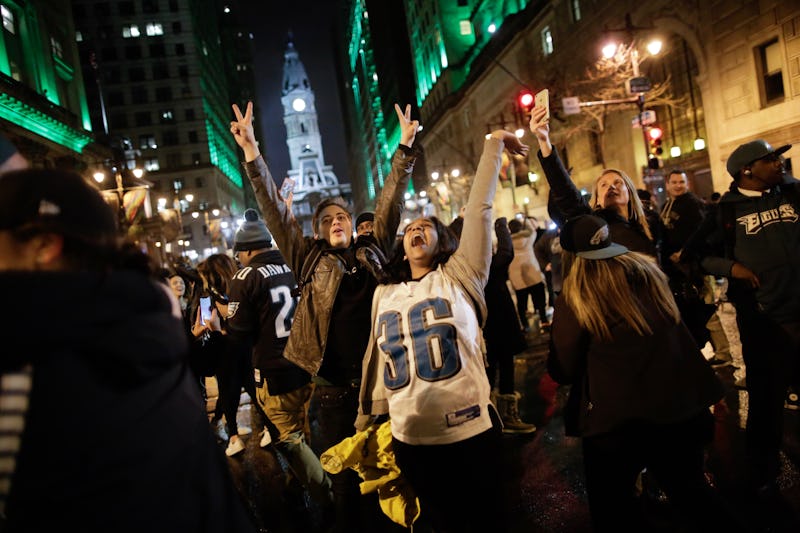 Eduardo Munoz Alvarez/Getty Images News/Getty Images
On Sunday evening, the Philadelphia Eagles secured a historic victory over the New England Patriots, beating them 41-33. The win marked the first-ever Super Bowl victory for the Eagles — and a devastating loss for the oft-victorious Patriots. The excitement stemming from the game sparked some pretty amazing facial expressions that defined Super Bowl 2018, which many on Twitter shared in all their glory.
The New England Patriots were favored to win the Super Bowl on Sunday — and a victory would have marked the team's sixth Super Bowl win. Thus, the Eagles' first-ever victory was rendered even more impressive by the fact that they beat the consistently-successful Patriots. Both Eagles and Patriots fans' reactions to the game certainly illustrated this point.
Indeed, immediately after the Super Bowl ended, Eagles fans flocked to downtown Philadelphia, with aerial photos showing thousands of people taking to the streets to revel in the festivities. Moreover, according to CNN, "Eagles" was trending worldwide on Twitter, with almost 3 millions tweets shortly before midnight on Sunday. And while Patriots fans were certainly less outspoken in words and actions, some of their reactions to their team's loss spoke volumes.
Thus, without further ado, the following list reflects the many facial expressions that defined Super Bowl LII and its myriad meanings for thousands of fans around the country.