These Juneteenth Tweets & Tributes Celebrate The Day In All Its Complexity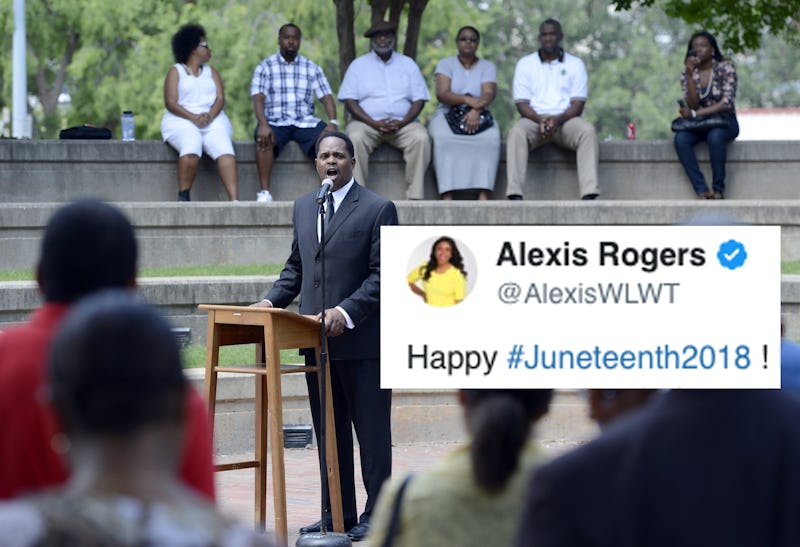 Erik S. Lesser/EPA/REX/Shutterstock
Across the United States celebrations to mark the end of slavery are filling parks, main streets, and — of course — Twitter. These Juneteenth tweets and tributes are honoring one of the country's most significant historical moments in the country: the end of slavery. It doesn't mark the date of the Emancipation Proclamation, which proclaimed the end of slavery in the Confederacy, but rather the day that freedom reached slaves in distant parts of the country.
The Emancipation Proclamation, signed by Abraham Lincoln in January 1863, technically freed slaves in the Confederate states. And then in December 1865, the 13th Amendment was ratified and ended slavery according to the Constitution. But neither of those days are celebrated on Juneteenth — a combination of June and nineteenth. Instead, the day marks the moment when emancipation finally reached those in the deepest parts of the former Confederacy, specifically Galveston, Texas.
That's where Maj. Gen. Gordon Granger arrived on June 19, 1865, and told the locals there that slavery had been ended by Lincoln two years before. And with the end of slavery in Texas, the entire country was emancipated.
Freedom Day or Emancipation Day, as the holiday is also called, provides an opportunity to recognize this momentous moment in history but also to recognize all that must still be done before racial equality is achieved in the present. That's what these tweets and tributes are doing.