Everything To Know About All The Documentaries Nominated For A 2018 Oscar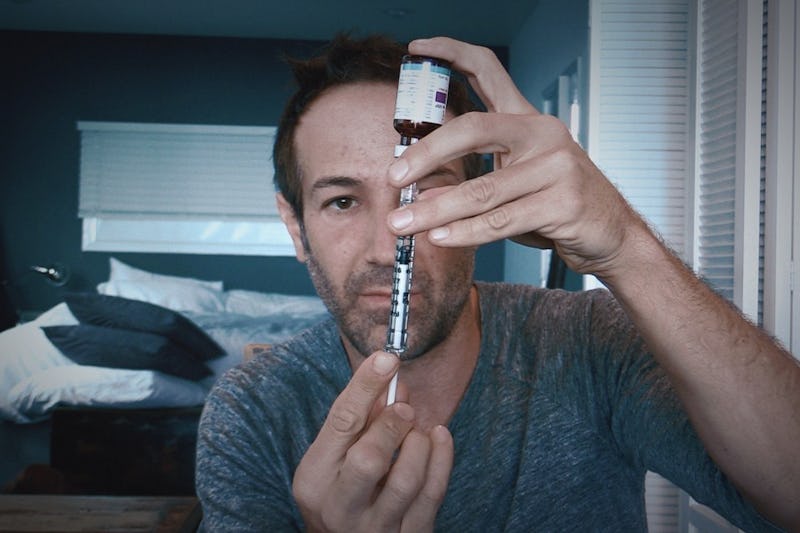 Netflix
The five movies nominated for Best Documentary Feature at the 2018 Academy Awards are arguably more diverse in subject matter than the nine movies nominated for Best Picture. And once you add in the five films nominated for Best Documentary Short, well, you've got a range of subjects and works that simply cannot be beat. Unfortunately, documentary movies tend to fly under the radar pre-awards, which means that fans might need a guide of what to know about all the Oscar-nominated docs before the awards on March 4.
A lot of documentaries can be hard to track down for viewing before the Oscars. And, unlike those nominated in the narrative categories, most of the docs that were released in theaters are either long gone or are only playing in California and New York. Luckily, prior to the Oscars, there are always special events at local theaters that screen the nominated documentaries, like DocuDay LA on March 3. Documentary shorts will also be screened as part of ShortsTV's efforts to screen all Oscar-nominated shorts in theaters prior to the awards. But, before you take the time to track them down, find out a bit more about the 2018 Oscar-nominated documentaries below.
Best Documentary Feature
Abacus: Small Enough to Jail — Steve James, Mark Mitten, Julie Goldman
Director Steve James and producers Mark Mitten and Julie Goldman could take home Oscars this year for Abacus: Small Enough to Jail. The documentary, which aired on television as part of PBS' Frontline, tells the story of the only bank charged with criminal activity in the 2008 financial crisis, Abacus Federal Savings of Chinatown.
Where to watch: Abacus: Small Enough to Jail is available to stream on PBS.com and on Amazon Prime.
Faces Places — Agnès Varda, J.R., Rosalie Varda
Renown French director Agnès Varda earned her first Oscar nomination alongside co-director J.R. and producer Rosalie Varda for Faces Places. The documentary focuses on Varda's relationship with photographer and muralist J.R. as they make art traveling in France. Win or lose, Varda has already taken home an Oscar this year, winning an honorary award.
Where to watch: Faces Places won't be released on DVD until March 6, and is not currently streaming on any major sites.
Icarus — Bryan Fogel, Dan Cogan
Director Bryan Fogel put his own health on the line to examine how cyclists used performance enhancing drugs and beat drug tests in Icarus, only to stumble upon evidence of a massive Russian conspiracy to falsify test results at the Olympics.
Where to watch: Icarus is currently streaming on Netflix.
Last Men in Aleppo — Feras Fayyad, Kareem Abeed, Soren Steen Jepersen
Last Men in Aleppo is Feras Fayyad's most recent dive into the crisis in Syria, this time focusing on the White Helmets, ordinary men who act as first responders to military strikes in Aleppo. The film focuses on three founders and their families as they struggle to decide how best to protect themselves and each other.
Where to watch: Last Men in Aleppo is currently streaming on Netflix and is available to rent on iTunes for $4.99.
Strong Island — Yance Ford, Joslyn Barnes
Strong Island director Yance Ford began the documentary as a way of finding out what happened to his brother, who at 24 was shot and killed by a white man who was acquitted by an all-white jury.
Where to watch: Strong Island is streaming on Netflix.
Best Documentary Short Subject
Edith+Eddie — Laura Checkoway, Thomas Lee Wright
Edith+Eddie tells the story of "America's oldest interracial newlyweds." Both in their nineties, Edith and Eddie are madly in love, but their newlywed bliss is threatened when family members try to separate them.
Where to watch: Edith+Eddie is not available online, and it's difficult to find in theaters. However, there are a few official clips that have been released.
Heaven is a Traffic Jam on the 405 — Frank Stiefel
Heaven is a Traffic Jam on the 405 offers an emotional portrait of artist Mindy Alper, whose lifelong struggles with anxiety, depression, and mental illness made art sometimes Alper's only form of expression.
Where to watch: The entire film is available to watch on YouTube, via IndieWire.
Heroin(e) — Elaine McMillion Sheldon, Karrin Sheldon
Elaine McMillion Sheldon, a Peabody Award winner, turns her lens to West Virginia to examine the opioid crisis currently leaving death and destruction in its wake all across America.
Where to watch: Heroin(e) is available to stream on Netflix.
Knife Skills — Thomas Lennon
Director Thonmas Lennon traveled to Cleveland to take a closer look at Edwins in Knife Skills. In the documentary, Edwins aims to become one of the best French restaurants in the country. It also happens to have a founder and staff entirely made up of former convicts.
Where to watch: You can buy Knife Skills on iTunes for $2.99.
Traffic Stop — Kate Davis, David Heilbroner
Breaion King was a young black woman in her 20s when she was stopped by police for a traffic violation in Austin, Texas. A contentious interaction with police, in which the white police officer repeatedly threw her to the ground upon arrest, followed. Traffic Stop director Kate Davis uses a mix of dashcam footage from the incident and interviews with King to get to the heart of this traumatizing police encounter.
Where to watch: Traffic Stop will be available to stream with HBO Go and HBO Now starting on Feb. 16.
Check these out, and you'll be the one person who gets all the Documentary winners right in your Oscar pool.