You Can Get A Car Air Freshener Of Your BFF's Face So They're Always With You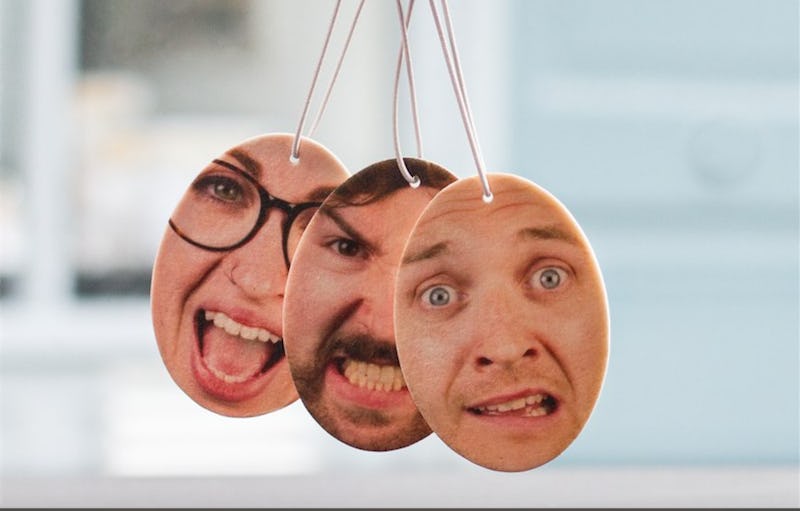 FIREBOX
If you're anything like me, your car smells like a combination of dog and the inside of a gym bag. Not exactly the makings of a pleasant car ride. But instead of going for the traditional pine tree air freshener (what a snoozefest!), opt for these personalized air fresheners with people's faces, because why wouldn't you want your BFF's or grandmother's head hanging from your rearview mirror?
The air fresheners come from Fresh Face, and you can personalize them with a selfie or a photo of someone special, which will be printed on both sides. Fresh Face comes in five scents: bacon, coffee, fresh linen, island breeze, and new car, if you're feeling more traditional. A pack of three will cost you $20.19, but really, can you put a price on an car air freshener with your aunt Hilda's face on it? No, you cannot.
Use a photo of your pops, your roomie, your mom — can you think of anything better than a long road trip staring into the eyes of your mother? It's almost like she's there in the car with you, asking why you're not married yet and wondering when you're going to find a better job. That's the life.
And for the last time, I'm not married yet because we're spending money on traveling instead.
Fresh Face, $20.19, Fire Box
Ordering is so simple. All you do is select your scent, add a high-quality photo you want to personalize it with, and bam — you're on your way to an incredibly awkward car ride.
In this day and age, we're always looking for a way to give everything a personal touch. Can anyone remember a time when we didn't have air fresheners with people's faces on them? These aren't the only personalized gifts grabbing people's attention, either. How about those temporary tattoos of your friends' and family members' faces, huh? Lilimandrill sells them on Etsy, referring to them as bridesmaid tattoos perfect for bachelorette parties or as wedding favors, but truly, the possibilities are endless.
These aren't your standard $0.25 gum ball machine, stick-on tattoos, either. Orders start at $70.00 and go up to $330.00. No price is too steep for something this brilliant, though. I mean, just look at it, you guys.
Custom Portrait Personalized Tattoos, $70.00+, Etsy
Don't lie to me. I know you've probably said dozens of times in your life, "Gosh, I really wish I could put my friend's face on my lower back." Don't lie to me!
The personalized gifts don't end there, either. In fact, Fire Box is all about them. Air fresheners not quite your style? No problem-o. How about personalized luggage? Never again will a random stranger try to snatch your Samsonite, because it's going to be covered in a giant picture of your face.
This is how you travel in style. All the other travelers won't be able to help but look on in envy.
Sexy.
Not much of a jetsetter? I hear you. I hear you. Tell me this: Would you like to outfit your home in the trendiest and classiest home decor money can buy? Of course you would — which is why I'm sure you'll fall in love with Fire Box's personalized Monster Mushions: giant cushions you can put a picture of someone's face on.
Monster Mushions, $33.59, Fire Box
After all that traveling and decorating, you're probably going to be a little sore. Never fear: Fire Box has microwaveable Hot Heads, perfect for that aching back or simply a cold night.
I can't think of any better way to get warm and cozy.
Give the gift that will never be forgotten, and slap someone's face on an air freshener.