This $20 Makeup Sponge Gave Me A Photo-Filter Finish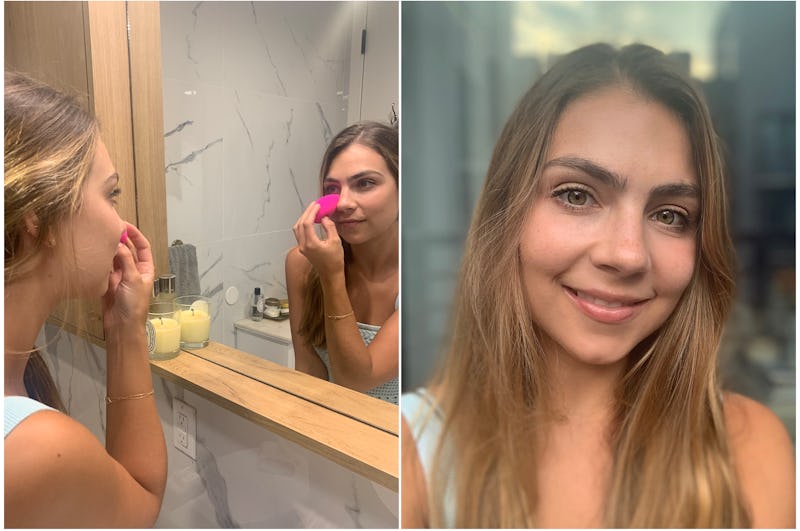 Marissa Oliva
My vibe, and therefore my makeup routine, are generally low maintenance. Most mornings, I throw on some BB cream, concealer, and a swipe of mascara (OK, maybe some blush and highlighter if I'm feeling fancy) and call it a day. So I never really got makeup sponges. Why add another product (and another step) if I can slap on some base with my fingertips, aka my built-in makeup blender?
That was all until a few years ago, when my friend from work sang the Beautyblender's praises — you know, the iconic pink, teardrop-shaped sponge — throughout the entirety of our 30-minute commute home. I decided it was time to try it out. And… wow. It seriously took my makeup from just fine to flawless, glowy, photo filter-y perfection. I've since speed dated a ton of other sponges on the market, and this one is by far The One. So, yeah, the Beautyblender and I are in a long-term relationship. Want to know why it works, and why it's so worth the $20 investment? Read on.
I Can Use Less Makeup
First thing's first: The Beautyblender was made to be used wet. Its soft, durable foam is specially designed to hold water like a reservoir without diluting makeup, so two pumps of foundation is all I need for my entire face and neck. To put it into perspective, other sponges I've tried have become big and bulky after getting wet, have tended to drip, and have absorbed so much makeup I end up using twice as much — about four to six pumps.
My Skin Always Looks Amazing
Whatever base product I'm using — BB cream, CC cream, traditional foundation — the Beautyblender melts it into my complexion. I end up with a more even-toned, dewy version of my actual skin. I always start with two pumps of product, then, if I need a little more coverage that day (hii, hormonal breakouts), I do another pump or two to build it up. No matter how much I end up using, my makeup never looks cakey, dry, or streaky.
It's Basically The Only Tool I Need
Its teardrop shape makes it perfect for applying makeup anywhere on my face, so I don't need to pull out seven different brushes. Here's how I use it: After wetting my Beautyblender (I like to run it under the sink for a few seconds until it swells to about twice its original size), I squeeze out the excess water, then I use the base of the sponge to apply foundation on my face and neck — and to blend cream blush and highlighter on my cheeks. Next, I use the pointed tip to dab concealer into smaller spots, like beneath my eyes, around my nose, and over blemishes. I use the sides of the Beautyblender to soften any lines or streaks. And if I'm using bronzer or setting powder, I flip it over to the base again to tap some on. So simple, right?
My Morning Routine Is So Quick
Because I'm only using one tool, and my products end up perfectly blended on my face, I'm able to do my makeup in under 10 minutes every morning, which is incredible, because my hair is… a whole different story.
It's In It For The Long Haul
Any good partnership is rooted in a solid foundation, and the Beautyblender's proprietary foam really holds up. When I wash it regularly with gentle soap and warm water (or one of the brand's cleansers) and store it in a dry place, I find that it lasts me anywhere from three to six months.
My love for my Beautyblender is that reach-for-the-stars, over-the-fence, World Series kind of stuff. OK, maybe not that serious. But it has really transformed how my makeup looks, and I'll never ever not use it.
This post is sponsored by Beautyblender.