This Chrissy Teigen & John Legend Pumpkin Will Probably Give You Nightmares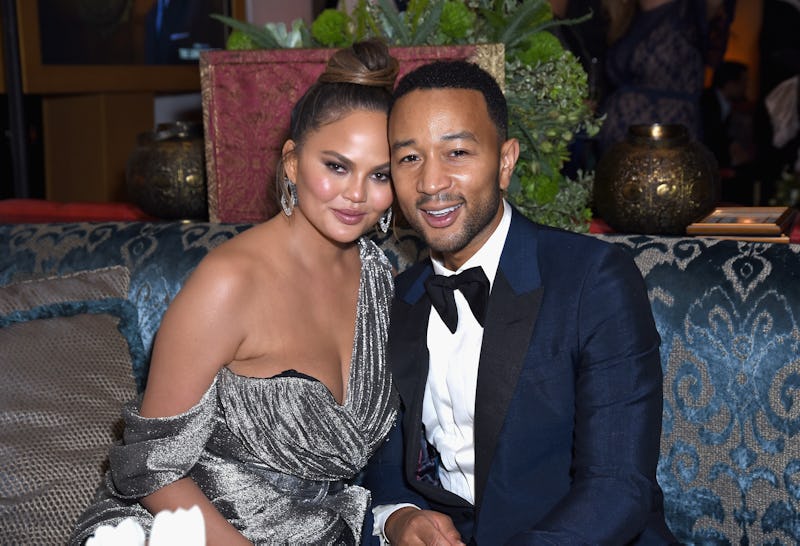 Presley Ann/Getty Images Entertainment/Getty Images
Halloween is right around the corner, and the spooky celebrations have already begun. Pumpkin carving is, of course, one of the most popular traditions leading up to this fright-filled holiday. It's a tough craft to master, though, as evidenced by this incredibly creepy Chrissy Teigen and John Legend jack-o'-lantern via Twitter user @jordo_eliz.
Look, it's definitely impressive, no doubt about that. The attention to detail is astounding, and it's a way better rendering of the stars than most people could hope to achieve. However, there's something a little... off about their faces. Off in a way that may give you nightmares, so consider yourself warned.
After @jordo_eliz came across the chilling sight, she tweeted, "@chrissyteigen Hi just wanted to share this (slightly scary) Chrissy & John art that I saw at a local pumpkin attraction." She included a photo of the aforementioned pumpkin in question, and it ended up getting the attention of one of the stars it depicted.
In what can only be described as a very generous, very gracious response, Teigen replied, "o wow thank u." Teigen's never been shy about putting her snark on full display, so it's a wonder that she didn't have more to say about the, um, unfavorable depiction of her and Legend's faces.
The rendering of Legend's face is the less scary of the two. It managed to nail his facial hair with expert-levels of shading — seriously, though, how do you even do that? — but it's also got a bit of a Gomez Addams from The Addams Family vibe to it, too. To be fair, that's totally appropriate, given the holiday.
The rendering of Teigen's face, on the other hand, is... interesting. It's very interesting. Again, though, the precision of the whole thing is truly awe-inspiring. It just doesn't quite embody Teigen's vibrant essence. OK, fine. It's creepy, OK? It's definitely creepy, and it will probably haunt your dreams for the rest of eternity. Hey, you were warned.
If you need a Teigen-related palate cleanser, though, there's more than enough to shift your focus right now. The mom of two just released her second cookbook — Cravings: Hungry For More — on Sept. 18, and it's filled with tasty recipes and non-scary photos of her face. The star also just rolled out her Cravings by Chrissy Teigen home and kitchenware line for Target, which you should definitely use while making something from her cookbook and looking at non-scary photos of her face.
If you're still having pumpkin-based nightmares after all of that, you might want to consult a doctor. Just kidding. Kind of.
All of us would be so lucky as to have someone pay tribute to us in pumpkin form. That jack-o'-lantern artist, whomever they may be, clearly put a lot of time and effort into that celebrity rendering, and definitely deserves props. Besides, 'tis the season of tricks and treats — it's more than appropriate that it ended up turning out a little bit scary on the scary side.