This New LGBTQ+ Protections Ruling Is A Huge Victory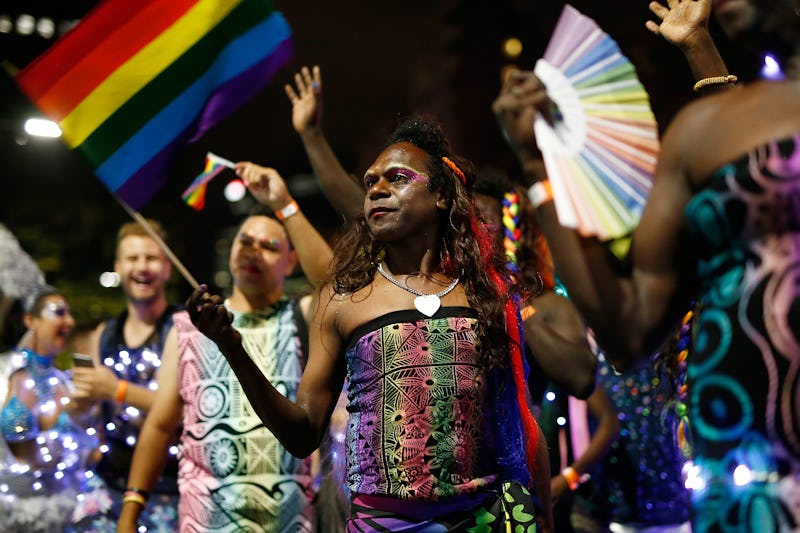 Zak Kaczmarek/Getty Images Entertainment/Getty Images
For the first time, LGBTQ+ Americans may be eligible for protection under one of the country's most transformative laws. A new ruling this week by the full 7th U.S. Circuit Court of Appeals found in favor of a lesbian plaintiff who alleged discrimination against a former employer, using precedent from the 1964 Civil Rights Act. LGBTQ+ groups call this anti-discrimination ruling a "game changer," but it could be a long time before the laws are changed to fully reflect this decision.
Indiana teacher Kimberly Hively initially brought forth the lawsuit in 2013, after four years of being denied a full-time teaching position at Ivy Tech Community College in South Bend, Indiana. According to The Chicago Tribune, someone reported seeing Hively kissing her girlfriend goodbye in a parking lot in 2009, and she was formally reprimanded by the administration the next day for "sucking face". Over the next four years, Hively was denied multiple opportunities for promotion, until she left her adjunct position and sued the school for discrimination.
The 7th Circuit ruled 8-3 in Hively's favor, finding in general that employers cannot discriminate against LGBTQ+ employees because of their sexual orientation. Ivy Tech released a statement claiming that they never actually discriminated against Hively, but the ruling was about the general principle, not the individual case. Judge Richard Posner, one of the presiders in the case, wrote in his opinion that the 1964 Civil Rights Act needs a new definition of "sex" in its stipulation that employers cannot discriminate on the basis of an "individual's race, color, religion, sex, or national origin."
"I don't see why firing a lesbian because she is in the subset of women who are lesbian should be thought any less a form of sex discrimination than firing a woman because she's a woman," wrote Judge Posner, who was appointed to the judgeship in 1981 by Ronald Reagan.
It's a little shocking to realize this protection for LGBTQ+ employees wasn't already in place legally, but this ruling truly is unprecedented. The most broad sweeping federal protection for LGBTQ+ workers until now was an executive order signed by President Obama in 2014, but as Obama's predecessor has shown, executive orders are far from constitutionally enshrined protections. The response from LGBTQ+ advocacy group Lambda Legal following the decision is representative of the momentousness of the ruling.
"This decision is [a] game changer for lesbian and gay employees facing discrimination in the workplace and sends a clear message to employers: it is against the law to discriminate on the basis of sexual orientation," said Greg Nevins, Lambda Legal's Employment Fairness Project Director and Hively's attorney in this case.
The next step in this case is very likely to be in the Supreme Court — the 7th Circuit decision overturned a ruling from a lower court in Georgia, so the highest court will probably have to make a ruling too before the case can finally be settled. This case could even throw new light onto Neil Gorsuch's Supreme Court nomination due to his alleged tendency to side with employers in cases regarding workers' rights. No matter what happens, this ruling is a victory and a relief for the LGBTQ+ community, and a hopeful sign of changing times.