Taylor Swift's "...Ready For It?" Sounds Like A Sequel To "Wildest Dreams" & Fans Are So Here For It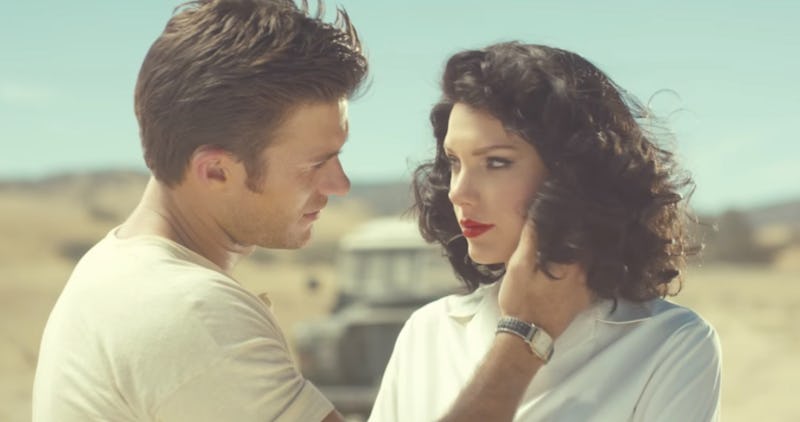 TaylorSwiftVEVO on YouTube
None of us were ready for it when Taylor Swift released "...Ready For It?" on Sunday morning. But now that we've had the time to process how we feel about the song, it's time to dive into what the song is trying to tell us. For example, this "...Ready For It?" lyric connects to "Wildest Dreams" pretty neatly, if you're keeping an ear out for this kind of thing. And considering how much of Swift's Reputation era seems to be a direct response to the Swifts that we've gotten before it, there's no way that's not intention.
Fans have already started hailing "...Ready For It?" as the "Wildest Dreams" 2.0 that they didn't know that they wanted until now. Both songs discuss a relationship with a bad boy that has laid waste to Swift — though, on "...Ready For It?", she's laying waste to the boy right back. But there's one standout lyric that harkens back to "Wildest Dreams" in a way too obvious to ignore:
"Wonder how many girls he had loved and left haunted
But if he's a ghost then I can be a phantom
Holding him for ransom."
The haunting and ghost imagery seems like a throwback to "Wildest Dreams," on which Swift sings:
"Someday, when you leave me
I bet these memories
Follow you around
Say you'll remember me..."
It sounds like Swift has evolved from kindly asking him to think of her in the future to swearing up and down he's not going to be able to think of anything else. It's aggressive and it's in your face — in line with the New Taylor that she promised everyone on "Look What You Made Me Do." This Swift is telling, not asking. This Swift may be a victim, but she'll victimize you, too. This Swift is causing her fans to have a meltdown.
This connection plays perfectly into the fan theory that the 15 Taylor Swifts in the "Look What You Made Me Do" video were telling fans what to expect from the 15 tracks on Reputation. Now, none of the 15 Swifts seemed to be explicitly dressed in her "Wildest Dreams" outfit, but there was a "Shake It Off" Swift that no doubt symbolized her 1989 era. If "...Ready For It?" is "Wildest Dreams" on the acid of "I Know Places" and "Bad Blood," as one fan suggested, then we can cross that Swift off the list of songs we need to hear.
Whether or not "...Ready For It?" was an intentional throwback to the song or not, one thing is for sure: fans already can't get enough of Reputation Swift.