How Tiffany Trump Wished Her Dad Happy Birthday On Social Media Is Short & Sweet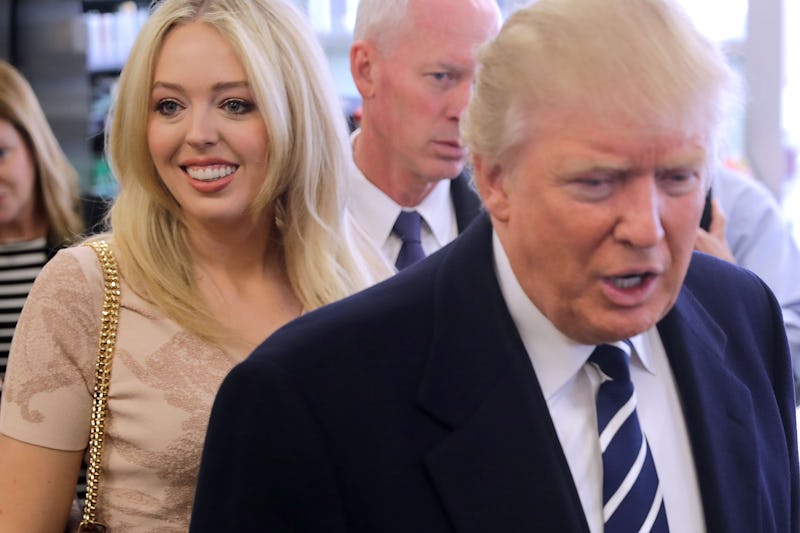 Chip Somodevilla/Getty Images News/Getty Images
Today, it's pretty much standard practice that all birthdays be celebrated via social media. And it's a habit that not even the president or his family is exempt from. On June 14, the second youngest Trump child, Tiffany, wished her father a happy birthday by posting two black and white photos to her Instagram: a black tie photo of herself, her father, and the youngest Trump child, Barron, along with a sweet shot of her dad holding her as a child. The message that accompanied the photos was short and sweet: "Happy Birthday Dad! @realdonaldtrump I love you so much" with some heart emojis.
Though most of Trump's kids followed him on the campaign trail and even into the White House, Tiffany has led what many would call a separate life. Having grown up separately from her siblings in Calabasas, California she stayed further out of the spotlight than, say, her older half-sister Ivanka Trump, who grew up in New York City. Now, Tiffany's a full-time law school student at Georgetown, but she's pursued various paths prior to that. Before officially kicking off her career in law, Tiffany interned at Vogue, modeled for Andrew Warren, and released a single titled "Like a Bird" in 2011. She even told the Oprah Winfrey Show that year that she was trying to figure out whether or not she wanted to pursue music professionally.
Ivanka Trump took the nostalgic route as well with wishing her father a happy birthday, posting a photo of her and her father at what looks like a party on Twitter. "Happy, happy birthday Dad! I love you very much! Wishing you your best year yet!"
Earlier in the day, Donald Jr. posted his birthday remarks to his father on Instagram, bragging about his father's successes on his behalf.
"What do you get the guy that has everything on his birthday? Nothing, he works hard and gets it himself." Trump said. "What more could someone ask for than what he's accomplished in the past 16 months? Happy Birthday Dad. #maga#birthday#happybirthday. Laid over the image of his father was the caption "Trump's Best Birthday" and a list of a few accomplishments of his administration thus far.
Donald Jr. also went on to express his birthday wishes for his father on Fox and Friends that morning.
Hopefully he's watching. I imagine he is, but: happy birthday, dad. I love you very much. You're getting absolutely no presents because I figured five grandchildren is enough—and what do you get the most powerful guy in the world? Anything's going to be a letdown. We love you, and I look forward to seeing you soon—because I don't get to see him that much anymore. That's the only problem.
Eric Trump followed in his sister Ivanka's footsteps and took to Twitter to post a collage of throwback photos of him with his father and his family with a loving message.
"Happy Birthday Dad! It is amazing how far we have all come! We are very proud of you and everything you've accomplished," he tweeted, adding in some American flag emojis for good measure.
But the real question that begs to be asked is what Melania got Trump for his birthday, since he apparently didn't get her anything for her birthday.
"Well, I better not get into that 'cause I may get in trouble. Maybe I didn't get her so much." Trump said over a phone call to Fox and Friends. "You know, I'm very busy to be running out looking for presents, OK?"
Most likely, the first lady is helping celebrate in person, but the social media snub has definitely been noted.