Trump Just Tweeted About Brett Kavanaugh Being Confirmed To The Supreme Court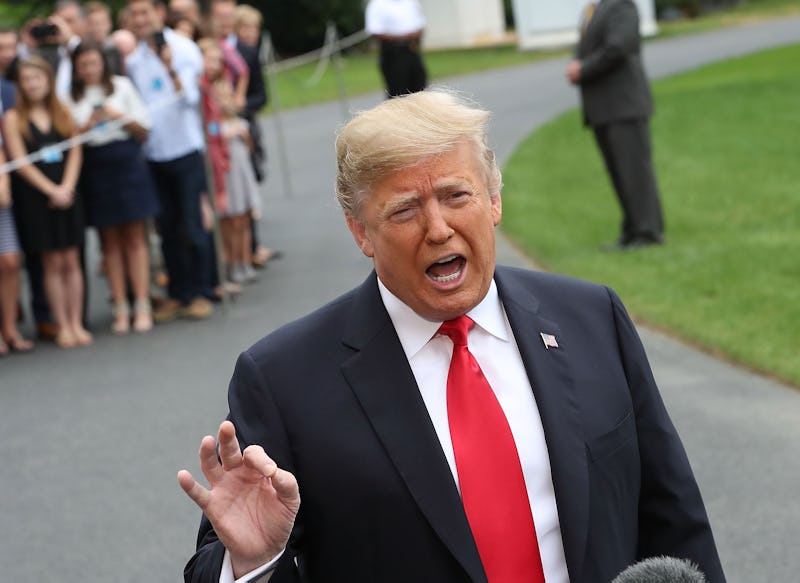 Mark Wilson/Getty Images News/Getty Images
On Saturday afternoon, as protests rattled Capitol Hill, the Senate voted to confirm Brett Kavanaugh to the Supreme Court. In a tweet responding to Kavanaugh' confirmation vote, President Trump wrote, "I applaud and congratulate the U.S. Senate for confirming our GREAT NOMINEE, Judge Brett Kavanaugh, to the United States Supreme Court."
"Later today," the president went on to add, "I will sign his Commission of Appointment, and he will be officially sworn in. Very exciting!"
In a tweet just minutes earlier, Trump spoke of Montana Sen. Steve Daines and said that he "asked [Daines], our great Republican senator from Montana, to attend his daughter Annie's wedding rather than coming to today's vote" and that "Steve was ready to do whatever he had to, but we had the necessary number. To the Daines Family, congratulations-have a wonderful day!"
The Montana senator had a personal reason for being out of Washington, D.C., on Saturday: His daughter, Annie Daines, was getting married over the weekend in Montana. Since Maine Sen. Susan Collins and West Virginia Sen. Joe Manchin announced on Friday that they would vote for Kavanaugh, the Senate had 51 votes in favor, and Daines was cleared to enjoy the family wedding.
Through his spokesperson, Daines said that he would be ready to fly to Capitol Hill to back Kavanaugh if needed. In an official statement, Daines also gave a shout-out to Montana Rep. Greg Gianforte and said that the latter would offer his jet if need be. "My good friend and colleague, Greg, has come to save the day," Daines said.
"If I need to be in two places at once to walk my daughter down the aisle on her wedding day and to be the final vote to put Judge Kavanaugh on the Supreme Court, he's offered me use of his plane," he added. "I appreciate his generosity as well as his dedication to family and country."
Daines was also brought up during the confirmation vote on Saturday after Alaska Sen. Lisa Murkowski said she would oppose Kavanaugh and then, at the last minute, withdrew her "no" vote and instead declared herself "present," pairing it with Daines' absence, in effect canceling each other out. In comments later to the press on Friday, Murkowski said, "I have extended this as a courtesy to my friend. It will not change the outcome of the vote. But I do hope that it reminds us that we can take very small, very small steps to be gracious with one another and maybe those small, gracious steps can lead to more."
Senate Majority Leader Mitch McConnell's office even explained the obscure Senate procedure in a statement. "When a senator is necessarily absent (for example, attending their daughter's wedding), they can 'pair' with another senator who is voting the opposite way," McConnell's spokesman, Don Stewart, said.
This all wasn't lost on Trump. On Saturday, as he spoke to The Washington Post per MSNBC, the president, "I think she will never recover from this. I think the people from Alaska will never forgive her for what she did."
If you or someone you know has been sexually assaulted, call the National Sexual Assault Telephone Hotline at 800-656-HOPE (4673) or visit online.rainn.org.
Read More About Brett Kavanaugh's Confirmation
The Reason Supreme Court Justices Serve For Life Is Right In The Constitution
This Is How Your Senator Voted On Brett Kavanaugh
SCOTUS Justices Can Be Impeached, But That Doesn't Mean It'll Happen To Kavanaugh
Opinion: "Believe Women" Means Nothing If You're Not Doing Anything About It