Trump's Latest Transgender Rights Move Could Be Devastating For Trans People's Health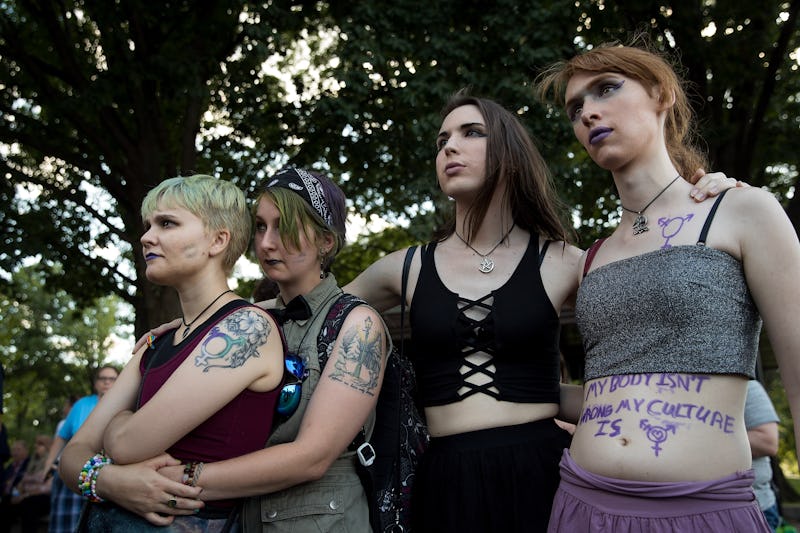 Drew Angerer/Getty Images News/Getty Images
Transgender people face significant barriers to medical care, and a proposed rule from the Trump administration may make things even more difficult for them. The administration may soon allow health care workers to object to treating transgender patients in a move framed as protecting the religious rights of those workers, according to a new report from POLITICO. The White House reportedly is reviewing a proposed rule that would enable health care workers to deny services and care to certain individuals — including, but not limited to, transgender patients — on the basis of religious or moral objections.
Pending approval from the White House, the reported rule would create a new "division" within the office in charge of civil rights at the Department of Human Health Services that would be charged with overseeing and enforcing religious freedom protections for heath care workers. It would also give HHS the ability to punish health care organizations that don't allow employees to deny care or treatment based on moral objections to a patient's sexual orientation, gender identity, or medical choices.
HHS could announce the rule as early as this week, according to POLITICO. The agency has yet to confirm or deny reports of the proposed rule, and didn't immediately respond Wednesday to Bustle's request for comment. But transgender rights organizations have been quick to condemn the move as a giant step backward.
Jillian Weiss, executive director for the Transgender Legal Defense and Education Fund, tells Bustle she fears that the reported rule would send the message that the transgender community, which already suffers from a great lack of medical care, is not deserving of that care.
"Medical care is a sacred trust and those entrusted to provide it by the government should not be empowered by the government to discriminate based on a patient's identity or characteristics," Weiss says. "My concern is that anything that says transgender people can be treated as anything less than a human being is going to cause problems for an already vulnerable and marginalized community."
Research suggests a rollback of healthcare discrimination protections for transgender patients could have serious, if not deadly, consequences. A 2014 Williams Institute study found that 60 percent of those who reported having been denied treatment by a physician because they identify as transgender or gender non-conforming have attempted suicide. Among those who reported postponing or avoiding needed medical care due to a fear of discrimination, 56 percent have attempted suicide.
The National Center for Transgender Equality argues the reported rule might be unnecessary, as the majority of those working in the medical field aren't seeking new avenues for discrimination.
"The vast majority of the medical community is against any form of license to discriminate," Harper Jean Tobin, the NCTE's director of policy, tells Bustle. "That the administration is rushing out such a momentous rule in secret, hiding behind a vague description and potentially circumventing normal procedures, just underscores how far they have been straying from established law in this area."
Reporting that HHS is moving to roll out a rule enabling health care workers to discriminate against transgender patients comes a little more than a year after a federal judge ruled that doctors could refuse care to transgender patients and women who'd had an abortion, if that doctor cited religious reasons. The judge went a step further in ruling that insurance companies could argue it was a "burden" to insure transgender patients and women who'd had abortions. Under the Affordable Care Act, medical professionals were prohibited from such discriminatory practices.
In moving to shield health care workers who seek to deny care to transgender patients, the Trump administration could return the country to a time when the LGBTQ community was actively discriminated against. Think back to when HIV or AIDS patients were denied end-of-life care; when same-sex couples were refused fertility treatments; when transgender patients were denied a myriad of services, including basic preventative care or emergency services like ambulance rides.
The National Center for Transgender Equality says the reported rule appears to show that the Trump administration is set to go far beyond what it characterizes as reasonable accommodations for religious freedom, which have long existed in U.S. law.
"This is the use of religion to hurt people because you disapprove of who they are," Tobin tells Bustle. "Any rule that grants a license to discriminate would be a disgrace and a mockery of the principle of religious freedom we all cherish."