Trump Just Made A Curious Comparison Of His Two Guilty Former Aides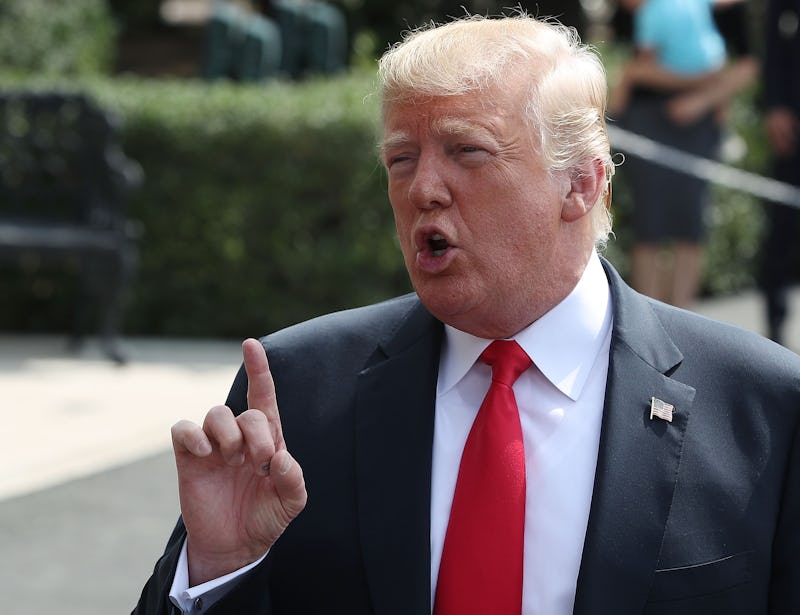 Mark Wilson/Getty Images News/Getty Images
After his former campaign manager was found guilty of tax fraud and other charges, President Donald Trump tweeted his sympathies for Paul Manafort and compared him to another former Trump staffer found guilty of federal crimes. The president said he feels "very badly" for Manafort, who he described as "a brave man" on Wednesday, Aug. 22. The day before, a jury in Alexandria, Virginia revealed that Manafort will face up to 80 years in prison.
The same day Manafort received a guilty verdict, Michael Cohen, Trump's former personal attorney, pleaded guilty to charges of bank fraud, tax evasion, and campaign finance violations in federal court. The president was much more supportive of Manafort's case, though, tweeting the following morning that unlike Cohen, Manafort refused to "break" or "make up stories in order to get a 'deal.'"
The tweet storm didn't stop there, either. Trump went on to point out that the jury couldn't reach a verdict on 10 of the charges against Manafort (though he was found guilty of the other eight), as well as repeated his mantra that special council Robert Mueller's investigation into the Trump campaign is a "witch hunt." He then claimed that Cohen pleaded guilty to two counts of campaign finance violations that are not a crime (a federal judge clearly thought otherwise).
"President Obama had a big campaign finance violation and it was easily settled!" Trump added on Wednesday, seemingly referring to a fine former President Barack Obama's 2008 campaign paid to the Federal Election Commission (FEC).
The campaign agreed to pay $375,000 for campaign reporting violations, according to Politico. The FEC was concerned about campaign notices that were missing, meaning the campaign allegedly failed to report nearly 1,300 contributions totaling more than $1.8 million within the required time frame. The Federal Election Commission also accused the campaign of returning contributions exceeding the legal limit too late and mistaking some contribution dates on campaign reports.
Though both classified as campaign finance violations, the allegations of misconduct levied against the Obama campaign and the Trump campaign are quite different. Cohen told a federal judge that "a candidate" for federal office instructed him to pay someone $130,000 in hush money in order to influence the election, Bloomberg reports.
"Today he stood up and testified under oath that Donald Trump directed him to commit a crime by making payments to two women for the principal purpose of influencing an election," Lanny Davis, one of Cohen's attorneys, said in a statement to Bloomberg on Tuesday. "If those payments were a crime for Michael Cohen, then why wouldn't they be a crime for Donald Trump?"
Davis' statement gets to the crux of why Trump's tweets praised Manafort over Cohen — namely that Cohen's plea deal implicated the president in alleged wrongdoings. Trump's claim that Cohen made up stories in order to reach a deal with federal prosecutors falls in line with his previous denials that he broke the law during the 2016 election.
But the president's most recent financial disclosure acknowledged a $130,000 payment Cohen made to Stormy Daniels, who claims to have had an affair with Trump in 2006 (which the president also denies). Trump's newest lawyer, Rudy Giuliani, told BuzzFeed News that Trump fully reimbursed Cohen for the payment in $35,000 installments spread out over 2017.
Nevertheless, Trump maintains that he acted above the law throughout his bid for the White House. And his tweets indicate that he isn't too pleased his former attorney suggested otherwise in court this week.