Twitter Can't Stop Talking About Trump's SCOTUS Pick After Michael Cohen's Plea Deal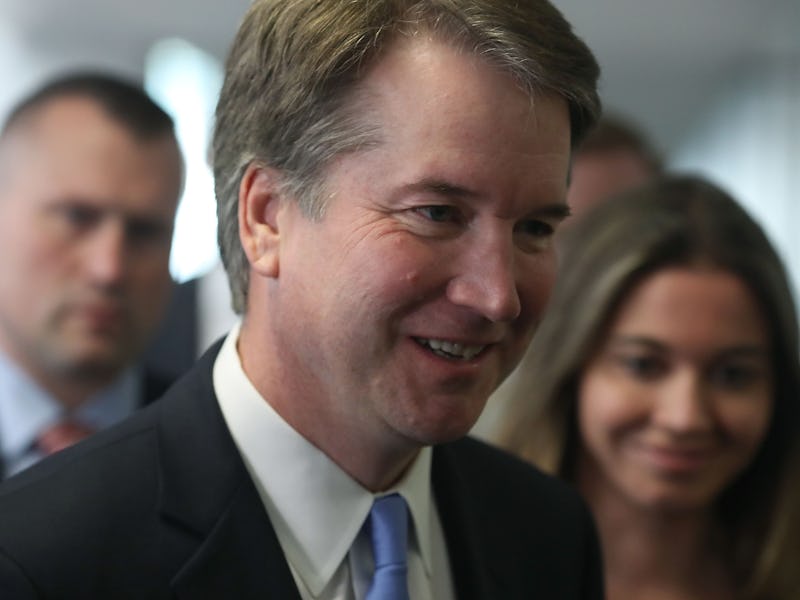 Mark Wilson/Getty Images News/Getty Images
You could describe Aug. 21 as "politically eventful" day. On Tuesday afternoon, President Donald Trump's former attorney entered into a plea deal with federal attorneys in the Southern District of New York. As soon as the news about Michael Cohen emerged, Twitter users brought up Brett Kavanaugh, Trump's Supreme Court nominee, voicing their concerns about Kavanaugh given the implications Cohen's plea deal may have for Trump.
Twitter users shared their apprehension after Cohen pleaded guilty to eight crimes, including violating campaign finance law. Cohen also admitted to paying two unspecified women hush payments in order to stifle public statements about affairs they claimed they had with an unspecified "individual."
Without specifying who the deals were made for, Cohen's plea agreement referred to "Chairman-1" of a "media company that owns, among other things, a popular tabloid magazine." Per court documents, this unnamed "Chairman-1" would inform Cohen about negative media surrounding an unnamed "Individual-1." Expanding on the hush payments Cohen paid to the two women, he noted that the money was "for the principal purpose of influencing the election." Cohen did not name anyone, but it was clear from the criminal information that "Individual-1" was President Trump.
Trump has not been accused of any crimes, but many on Twitter expressed concern that he could be, particularly after the contents of Cohen's plea deal were released. Cohen was Trump's personal attorney for years, and the two men were, until recently, known to be very close. Many Twitter users suggested — or said explicitly — that they would like to see how any current and potential legal cases move forward before Trump possibly affects the Supreme Court's makeup for an entire generation.
"So the Senate is just gonna rush ahead to confirm the president's nominee to the Supreme Court amidst all this?" tweeted Chris Hayes, Editor at Large at The Nation. "Really?"
Many said there was a need to thoroughly vet Kavanaugh with hashtags like #ReleaseThe Records given Republicans' reluctance to release some documents related to Kavanaugh.
Others simply cautioned people to not to "lose sight of Kavanaugh."
Some implored high-ranking Republicans like Maine Sen. Susan Collins to reconsider their support for Kavanaugh. On Tuesday, the Maine Republican senator met with Kavanaugh wherein the latter assured her that he would not overturn Roe v. Wade.
Given the circumstances, some users were particularly frustrated to remember that Obama's last Supreme Court nominee was blocked because opponents didn't want him to put someone on the court during his last year in the White House.
"So Obama couldn't name a Supreme Court pick during an election year but Trump can name one in the middle of the biggest presidential corruption scandal in US history?" tweeted one user.
"Clock stopping," wrote New York Attorney General candidate Zephyr Teachout. "Cohen admits in court that he broke key anticorruption laws at the direction of the President. Lot's of responses, but one should be obvious: Kavanaugh's Supreme Court nomination must be immediately halted. The President can't be picking who might be his judge."
Twitter takes, of course, often encapsulate some of people's most strongly-worded responses to events happening in real-time, but this has also been an abnormally tense political moment in the United States. Responses to Cohen's plea deal on Tuesday definitely reflected that.
Monica Busch contributed to reporting.