A Horrific Viral Video Started A National Uproar In Brazil Around Domestic Violence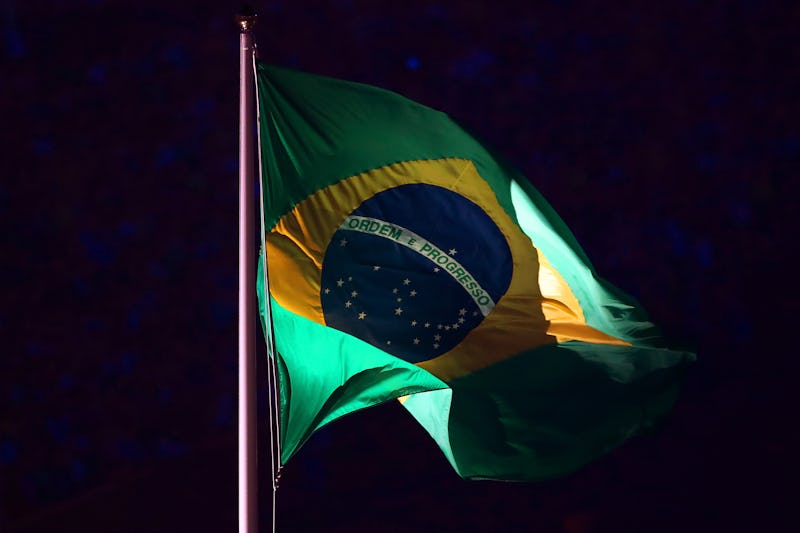 David Rogers/Getty Images Sport/Getty Images
It's an unfortunate fact that vicious wake up calls are what frequently trigger calls to action, but it's true around the world. Right now, this is happening in Brazil, where video of a man beating his wife has launched a larger discussion about domestic violence within the country. Many Brazilian residents are now grappling with how frequently domestic violence actually occurs within their country, as well as with how both individuals and the government respond to it.
"The video just reflects the levels of violence we have been documenting," Maria Laura Canineu, the Brazil director for Human Rights Watch, told The New York Times. "What Brazil has to learn is that most of these cases are preventable. It is very rare that a murder is the first case of violence."
The video in question shows Luís Felipe Manvailer brutally beating Tatiane Spitzner, his wife of five years. (As a warning, this article has a graphic description of the incident.) Footage also includes Spitzner falling to her death from the their apartment balcony, and Manvailer retrieving her body from the ground outside. The video is comprised of security footage outside of their apartment building, in the building's garage, and in the elevator. It first aired on Sunday on the Brazilian news program Fantástico.
The clips, some of which have been shared online, are difficult to watch. They follow the couple from the street outside of their apartment, into the garage, where Manvailer, at one point, places his hands around Spitzner's neck. Once in the elevator, Spitzner is seen trying to flee, but Manvailer refuses to let her go and forces her back inside the compartment. Less than a half hour later, the Times reports, Spitzner was dead. Manvailer is being investigated for her murder, allegations he has denied.
Domestic violence is an issue that plagues victims around the world, but data shows that, in Brazil, it is particularly pervasive. In a national survey from 2017, nearly a third of Brazilian women said they had been victims of violence, threats, or attempted murder, according to Human Rights Watch.
A 2015 report by Mapa de Violencia and translated in part by NPR contends that, in Brazil, a woman is killed every two hours, and assault every 15 seconds. Frequently, those assailants are someone the victim knows. A separate study from Mapa de Violencia, from 2012, reports that Brazil has the seventh-highest rate of femicide in the world, according to a translation reported on by the Times.
"This needs to change. Domestic violence is not a 'women's issue.' It's a Brazil issue," Canineu wrote in Revista VEJA earlier this year. The piece was translated to English and posted on the Human Rights Watch website.
Brazil has anti-domestic violence laws on the books, but according to Canineu, the government often fails to enforce them. This, she says, is why so few women in Brazil even report instances of domestic violence.
"The police don't even take basic investigative steps in many cases when women report violence," she wrote. She continued:
They don't take a full statement or have the woman undergo a medical exam. Police stations, even female-staffed stations, lack private rooms for taking victims' statements...Then, often, police fail to investigate fully, leaving insufficient evidence to support a prosecution. Police often don't take adequate steps to protect victims who do come forward from suffering further abuse. Altogether, women lose faith in the system.
Preventing and responding to domestic violence can, indeed, take a village. It requires more than just laws on the books; it requires a culture that believes women, and that supports them when they need to leave dangerous relationships. But as is the case in most places around the world, that support in Brazil is incomplete. It will, unfortunately, take time to remedy.