Here's A Hilarious Video Of Mike Pence Celebrating Garfield The Cat's Birthday In 2003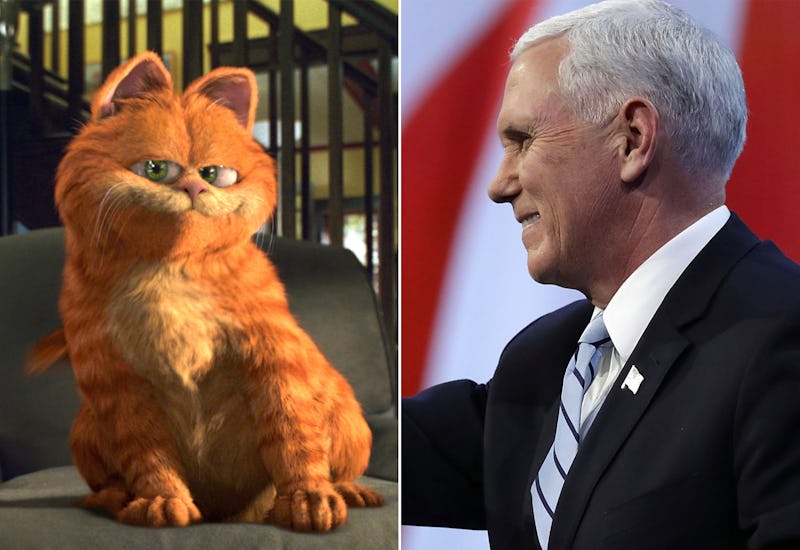 Rhythm Hues/20th Century Fox/Davis/Kobal/REX/Shutterstock / Chip Somodevilla/Getty Images News/Getty Images
Mike Pence has spent many long years in politics, but sprinkled in among all of those serious stares and earnest nods that he tends to give, there were some moments that perhaps weren't quite as dignified. For example, Pence once celebrated Garfield the Cat's birthday on the floor of the actual House of Representatives, and there is video footage to prove it.
Pence served as a representative from Indiana from 2001 until 2013. A legislative effectiveness study that Indy Star reported on in 2014 showed that he wasn't the most effective member of Congress in terms of how much legislation he got passed, but he evidently had other goals at times — like, in 2003, entertaining his fellow Congress members with a birthday celebration for a fictional cat.
"Garfield loves TV and he hates Mondays. He'd rather pig out than work out. In fact, his passion for food and sleep is matched only by his aversion to diet and exercise," Pence said, next to a celebratory picture of Garfield. "A cat after my own heart. He'd like mornings better if they started later, coffee strong enough to sit up and bark, and he pledges regularly, 'I'll rise but I won't shine.'"
Credit for unearthing this remarkable find goes to Twitter user @FloorCharts, who found the original C-SPAN video and posted a link, and Twitter user @jbillinson, who posted the clip as a standalone video on Twitter for the world to enjoy.
In 2003, when the fateful scene took place, Pence was early in his term in Congress, and 13 years away from the moment when he would be elected vice president alongside Donald Trump. There's one thing the video makes very clear — as a politician, Pence seems to have always had that same head of silver hair. The Garfield video, however, shows a side of Pence that those who have only begun following him once he entered the realm of national politics may not have seen — a more free-wheeling, relaxed side.
After all, Pence always has to play the foil to Donald Trump. One of his roles is the down-to-earth family man; another is the true Christian conservative; another is the experienced politician. In no situation has anyone seen Pence, the vice president, so adamantly honoring a beloved American cartoon character. It would almost be less surprising if he had been so passionately gesticulating about James Garfield, the nation's 20th president, who according to WhiteHouse.gov only entered the White House after numerous terms in the House — much like Pence himself.
On the other hand, Pence is well-known as an animal lover, especially after the competing books about the Pence family rabbit, Marlon Bundo — one written by Pence daughter Charlotte and illustrated by Karen Pence, the second, gay-friendly one by comedian John Oliver — hit the shelves. Soon after the election, The Atlantic reported that Trump had even called the Pences "low class" and "yokels" because they had decided to bring several of their pets with them to Washington, including a snake, two cats, and the aforementioned rabbit (Pence's press secretary later denied the story).
Since the election, Pence has only added to his menagerie, adopting a puppy and a kitten after one of their other cats died in June 2017. There's no word on how many Garfield stuffed animals Pence has scattered around the vice president's residence to go along with the real-life pets, but the 2003 video would suggest that he has quite an affinity for the cartoon cat. Presidential pets always play a part in humanizing their lofty owners — but apparently, they didn't need to put in the work of actually taking care of a pet all along. All they had to do was excitedly wish a happy birthday to a well-known fictional animal, and watch the good-natured laughs roll in.