Trump's Nashville Rally Put A New Twist On His Claim That Mexico Will Pay For The Wall
Drew Angerer/Getty Images News/Getty Images
On behalf of Republican Senator Marsha Blackburn's bid for reelection on Tuesday night, Trump spoke in Tennessee and zoned in on a familiar topic. Video of Trump's Nashville rally promises Mexico will pay for the wall, but that's not all. The intention to build a massive wall between Mexico and the United States as a solution to illegal immigration was one of Trump's original campaign promises, and has been one of his longstanding focuses at rallies and events. His latest speech, though, puts a new twist on the frequently mentioned talking point.
During the rally, the president said, "I don't want to cause a problem ... but in the end, Mexico is going to pay for the wall." He continued, "I'm just telling you...[Mexico makes] all of this money, and [it does] absolutely nothing to stop people from going through Mexico from Honduras and all these other countries that caravan all of their stuff, they do nothing to help us, nothing."
Amidst cheers, Trump finished his sentiments by adding, "They're going to pay for the wall, and they're going to like it."
Trump's desire to build a wall has long been a tenet of his presidential promise. According to The Huffington Post, he first announced his intentions for a Mexico-United States border wall on June 16, 2015, on the same day he announced his campaign for the presidency.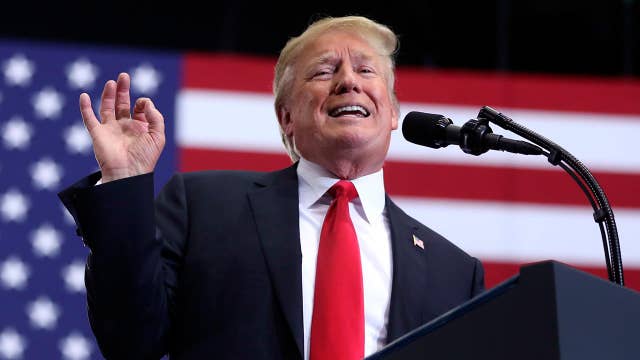 "I will build a great wall ― and nobody builds walls better than me, believe me ―and I'll build them very inexpensively," Trump declared at the time. "I will build a great, great wall on our southern border, and I will make Mexico pay for that wall. Mark my words."
There were very little concrete details about the proposed wall, besides the fact that it would run the length of the Mexican border and that Mexico would pay for it. At some points, Trump suggested that the United States would front the cost for the wall and Mexico would pay the nation back over time, but the sentiment remained the same: Mexico would pay for this wall in the end. However, throughout Trump's campaign and into the first year and a half of his presidency, Mexico has consistently and adamantly maintained that it has no intentions to pay for a border wall.
Immediately following President Trump's inauguration, Mexican President Enrique Peńa Nieto canceled his scheduled visit to the White House upon hearing Trump's latest idea of taxing Mexican imports by 20 percent as a means to pay for the wall. In a tweet, President Nieto said (translated from Spanish into English), "Mexico does not believe in walls. I've said time [and time] again; Mexico will not pay for any wall."
Despite Trump's occasional claims of progress on the border wall, there has been no actual movement towards the creation of this wall, nor has Mexico budged its opinion on the matter.
According to Business Insider, the latest updates on the proposed Mexico-United States border primarily revolve around the creation of several prototypes (different types of walls to choose from). However, the Senate has refused to approve his request for $1.6 billion in funding, and Mexico has no interest in paying for it either.
But none of this stopped Trump from insisting at the rally in Nashville that his same promise remains true. The president was in Tennessee to support the reelection of Senator Blackburn, who promised voters later that night that she would do everything possible to support President Trump's agenda. In turn, President Trump heaped praise onto Senator Blackburn. "[Marsha was] a very early supporter of [my campaign]," Trump noted to the crowd. "She loves your state, she loves your country, and she's going to win."
Senator Blackburn is running against former Governor Phil Bredesen, the Democratic candidate. Of Bredesen, Trump said, "Marsha's very liberal democratic opponent — I never heard of this guy — is an absolute total tool of Chuck Schumer."
According to NBC News, Bredesen has consistently held a marginal lead in all three major public polls, though Tennessee is a traditionally red state.