Ruth Madoff's 'Wizard Of Lies' Views Are A Mystery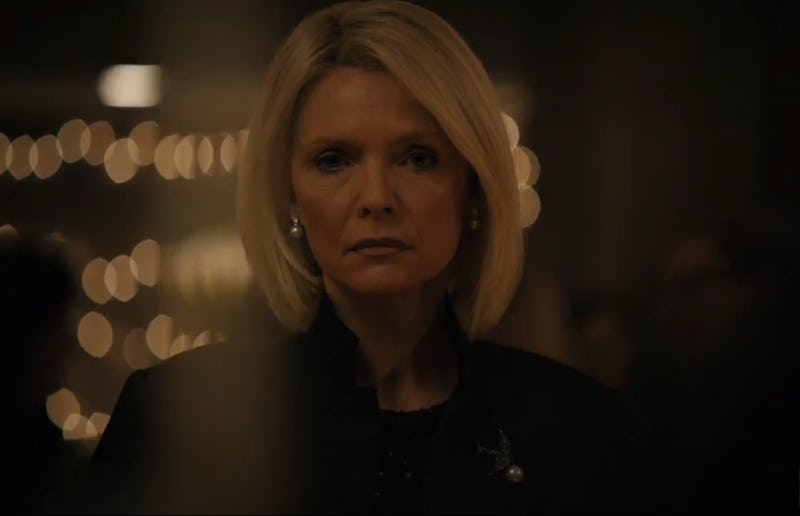 HBO
Since the arrest of Bernie Madoff in 2008, just about every facet of his massive Ponzi scheme has been analyzed and scrutinized ad nauseam by the media, to the point where one would think there isn't anything left to say about it. But one aspect of the scandal that hasn't gotten much attention is the effect it had on the Madoff family. HBO is looking to change that with a new film, which focuses on just that, and its existence raises the question of what Ruth Madoff must think of The Wizard of Lies.
Bernie's wife — who has always maintained that she was unaware of her husband's crimes and has never been charged with any wrongdoing — has been extremely quiet in recent years, as she looks to live her days in Connecticut out of public view. However, while Ruth has not gone to the press to give her thoughts on the film (Bustle reached out to Ruth's lawyer for comment, but has not heard back at this time), she has spoken to at least one person involved with it: Michelle Pfeiffer. The actor portrays Ruth in the movie, and was actually able to meet her and speak with her in preparation for the role. And while Ruth was apparently cooperative, Pfeiffer claims the former billionaire is not very pleased that the film is being made at all.
"I knew Ruth wasn't happy about this film being made," Pfeiffer told Town & Country. "Why would she be? But the best I could do is represent her in an honest way. My hope is that people will come away from this film thinking of her as a human being." Given Pfeiffer's comments, it seems like she put great effort into playing Ruth in a way that would honor her without offending her, but it's still not known whether or not Ruth will ever watch the film. The movie's director Barry Levinson recently told Page Six, "I don't believe Ruth has seen the film."
Pfeiffer further discussed her meeting with Ruth, which apparently took place inside the kitchen of Ruth's Old Greenwich, Connecticut home, on The Tonight Show with Jimmy Fallon. "You know what? She was awesome," Pfeiffer said of Ruth. "She was understandably guarded, but way more gracious than she really needed to be, and I was surprised actually that she was willing to meet me, and in fact I hesitated to contact her. And I shared that with her and said 'I was surprised that you agreed to meet me,' and she said, '(gruff Queens accent) Well, I'd be surprised if you were playing me and you didn't wanna meet me!'"
At least one media outlet — The New York Post — did attempt to speak with Ruth directly about the film by knocking on her door, but she, unsurprisingly, did not let them in, allegedly simply telling them, "I have nothing to say," according to the paper.
Ruth may never publicly comment on The Wizard of Lies, and there's no way to know if she'll even watch the film. But she should rest easy in knowing that Pfeiffer at least attempted to portray her fairly in it.