How To Follow Nicki Minaj On Snapchat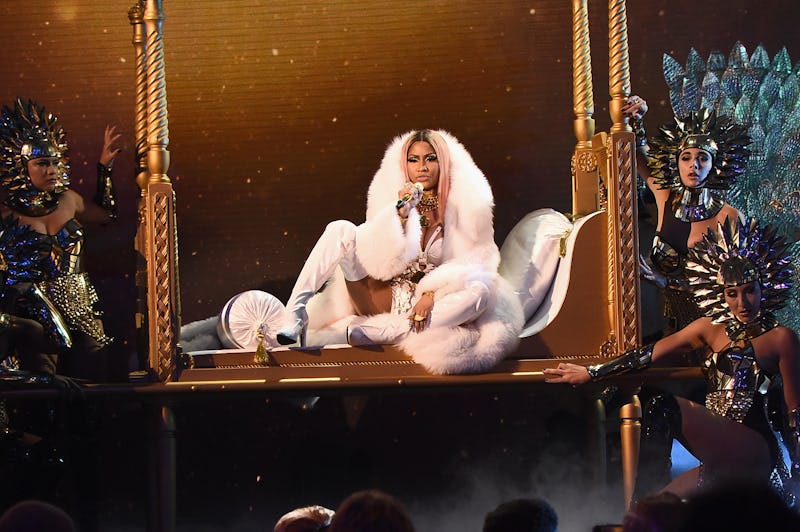 Michael Loccisano/Getty Images Entertainment/Getty Images
It's a good day to be a Barb, as Nicki Minaj has officially joined Snapchat. For anyone wondering what Nicki Minaj's Snapchat name is, you can add the rapper/singer on the platform @nickiminaj — but you might just have to wait until after she learns how to use it first. The 34-year-old artist announced via Instagram to her 81 million followers that she had officially joined the site, only to be immediately bombarded with hundreds of snap messages and video calls from fans.
Her first post featured a photo of her Snapchat code that fans could use add her, alongside the caption, "Yo can y'all teach me how to use this? wtf I wanna show y'all how a bad btch posts her first snap but." Some fans attempted to be helpful, encouraging Minaj to make her Snapchat public so that they could add her. One fan even asked her to drop a new album on Snapchat. But once that happened, the rapper had to return to Instagram with a second post, basically asking the Barbz to be a little patient while she attempted to figure things out. Needless to say, it was actually pretty hilarious and all in good fun.
Snapchat is probably one of the most commonly used social apps today and fans are so excited that self-proclaimed queen of rap needs has finally joined it. Just look at her notifications.
Minaj has been pretty busy as of late: she's been on a countless number of features these past few months, and she just teamed up with Blac Chyna earlier this month to film the music video for her song with Yo Gotti, "Rake It Up." Then there's also the fact that she's been a little preoccupied with being a superstar who's more than happy to teach the world the proper way to travel to Prague.
Now, the Barbz — and the world — await what is sure to be Minaj's epic first Snapchat.