Why Darren Criss Was Wearing A Different Pin Than Everyone Else At The Golden Globes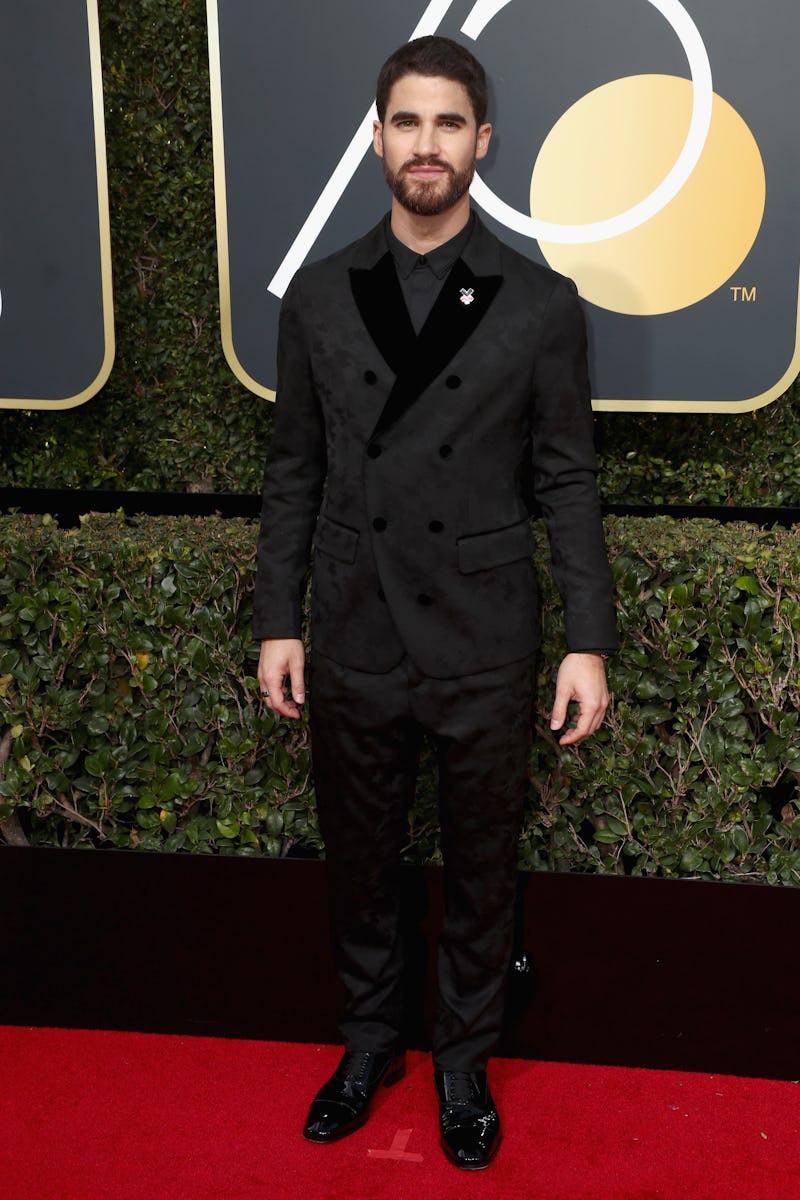 Frederick M. Brown/Getty Images Entertainment/Getty Images
The 2018 Golden Globes kicked off Hollywood's awards season in serious style, including actor Darren Criss, who made a statement with a unique lapel pin with an important message.
The biggest fashion and culture story of the evening was the fact that celebs wore black dresses and suits on the 2018 Golden Globes red carpet in a show of solidarity, unity, and support for survivors and accusers of sexual harassment, assault, and abuse. It was a moving display, and Criss took part in the action.
The Time's Up pin was also a popular accessory of the night, as it called attention to the fact that as a society, we can no longer stay silent and allow this to happen across industries. But there was another fashion accessory which signaled change at the ceremony. Criss' pink and black pin represents the HeForShe movement, which is a United Nations campaign for gender equality. The campaign also seeks to end sexual harassment and gendered violence.
The HeForShe campaign states on its website that gender equality is "not just a women's issue, it's a human rights issue. And when these powerful voices are heard, they will change the world." It looks like Criss wants to show he's part of that change.
There it is! Criss, who stars in the upcoming The Assassination of Gianni Versace, also posted a video on Twitter about why he was opting to rock this pin at the ceremony. He was invited to do so by his friend, singer Ricky Martin. He then passed invites along to his former Glee castmates. You can watch Criss' video below.
"I am hoping to be a small part for a bigger change in whatever way I can," said Criss in the video. It was a simple but powerful statement.
The Walking Dead star Norman Reedus slayed his black bowtie and a delightful disheveled bedhead. He also paired his Time's Up pin with the HeForShe pin, showing three levels of support. It was a beautiful thing.
This is how fashion works on a critically important level. So many viewers undoubtedly tuned in to see the ensembles — and were ultimately further educated about important issues.
On its site, HeForShe also reaches out to those who want to donate to the cause, stating that it is working to build "a world where no one has to be afraid simply because of who they are."
Currently, the HeForShe pin is not available for purchase in the merch section of the site. It was previously available via Amazon, but that is no longer the case. That could change, however, as the movement picks up steam and as more people inquire about it based on the fact that Criss and Reedus wore it to the awards show.
While wearing a black tux is pretty standard at awards shows, it's nice to see actors like Criss take deliberate action to stand in solidarity with women and survivors. Now that's allyship.