This Is Why Protests Are Erupting In Anaheim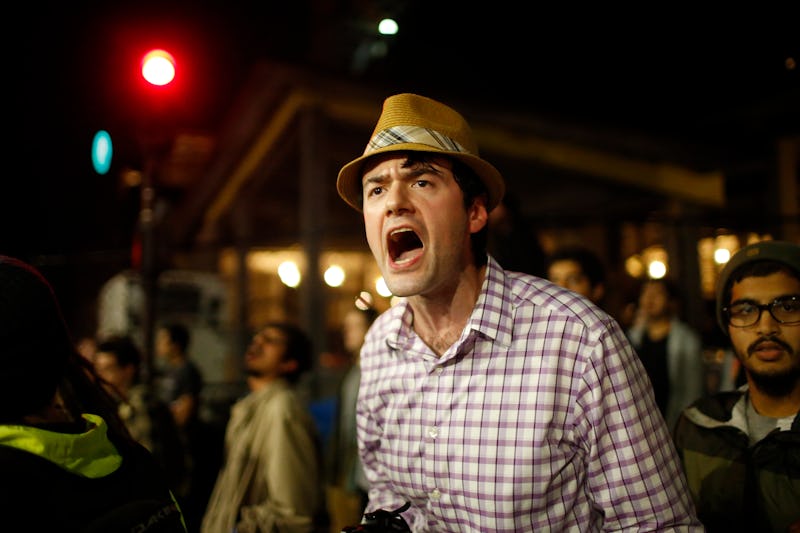 Stephen Lam/Getty Images News/Getty Images
Late on Wednesday evening, local Los Angeles news stations reported that protests erupted in Anaheim, California after an alleged interaction between a teen and off-duty Los Angeles Police Department cop was called into question. It's estimated that 300 people took to the streets to protest. According to L.A.'s ABC 7, the protesters gathered around Euclid Street and Palais Road, where the interaction supposedly happened Tuesday afternoon.
A viral video clip shows a man, who could be the off-duty policeman in question, having an altercation with a group of teens. After the man in the video appears to grab one of the teens by the collar, another teen charges at him and seems to strike him. Then the man pulls out a gun and a single shot is heard. No one was hurt in the incident, as the bullet didn't hit anyone.
Though the video, which was recorded on a cellphone, definitely depicts some sort of confrontation between an adult man and a group of teenagers, the Anaheim Police Department has not confirmed the video clip's validity. The Los Angeles Times reported that the department released a statement following the event, saying they could not "authenticate the validity of these videos" at this time. Similarly, KTLA 5 reported that the Anaheim Police Department responded to the concerns via email:
We are aware of numerous videos being posted on YouTube and other internet sites. We cannot authenticate the validity of these videos as they were not recorded or posted by APD. However, they do appear to depict portions of the incident in question.
In a newer statement, the Anaheim Police Department did confirm that "the confrontation began over ongoing issues with juveniles walking across the officer's property." It added that a 13-year-old boy allegedly "threatened to shoot the off-duty officer," according to KTLA 5, leading to the altercation.
The boy claimed instead, however, that he said he was going to "sue" the officer as opposed to "shoot" him. The boy claimed the altercation began after the man allegedly yelled at a girl for being on his property. The teen's mother has secured an attorney. Anaheim police spokesman Sergeant Daron Wyatt warned that regardless, the video only represented a "very small portion" of the interaction.
According to The Los Angeles Times, concern within the community prompted the Anaheim Police Department to investigate the case. In the meantime, the officer in question has been put on administrative leave for 72 hours.
LAPD spokesman Capt. Andy Neiman outlined the next steps going forward:
We will continue to conduct the internal investigation to determine the actions of the officer and the circumstances, and then we'll consult with the Orange County district attorney as well to determine if there's any issues.
More details will likely be revealed in the upcoming days.