An Entire Line Of *NSYNC Clothing Is Coming, So Wave Bye, Bye, Bye To Your Money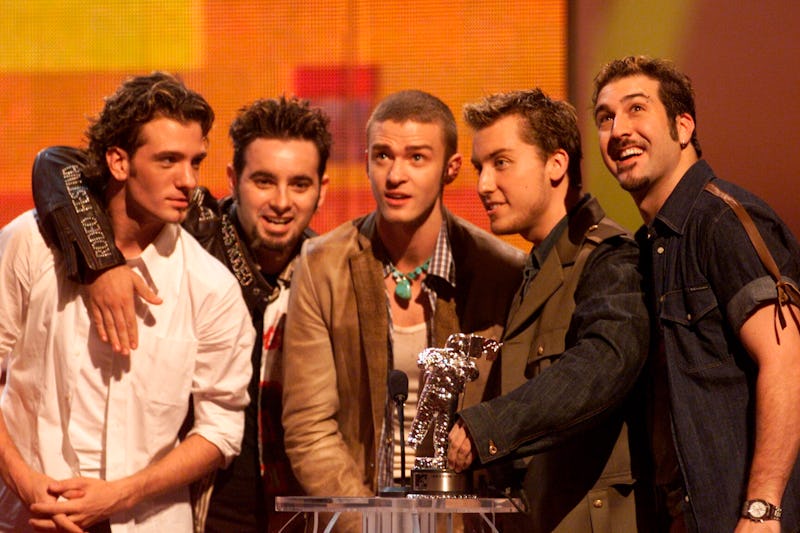 Scott Gries/Getty Images Entertainment/Getty Images
If you are a child of the '90s, you are about to be shook to your core. An entire *NSYNC merch collection is coming, proving the '90s pop culture revival shows absolutely no signs of slowing down. Epic Rights has acquired logo licensing for the iconic boy band, and plans to throw it back to the '90s in a huge way. The high quality, retro collection of apparel and accessories will be truly authentic, since Epic Rights is planning to collaborate with some of the most iconic fashion brands of the period for the line. Wow, with a side of wow.
The range of products will utilize album covers, photos, logos, and other art for fashion tops and T-shirts. But it's not just about things you can wear. There will be additional *NSYNC collectibles, such as electronics, seasonal and home decor, games, collectible figures, slot machines (???), and more.
That translates roughly to "Something for every *NSYNC fan in your life."
*NSYNC is fully on board with the forthcoming range. In a statement, member Lance Bass, who will serve as the liaison for the new collection, said, "The band is thrilled to create an exciting new line of new merch with Epic Rights in celebration of our 20 anniversary."
The collection is timed in conjunction with the anniversary of the fivesome's debut, and subsequent rise to prominence and dominance. The band's self-titled debut dropped on May 26, 1997 and the celebratory party will rage on in 2018. Are you shaking or doing a happy dance with uncontainable excitement yet?
It's OK if you are, since we may or may not have had this same reaction to this news.
Expect to see a lot more of Bass, JC Chasez, Joey Fatone, Chris Kirkpatrick, and Justin Timberlake in your life through multiple pieces of merch.
Bustle reached out to Epic Rights for further details, such as when the *NSYNC cultural infiltration will start and where the items will be available for purchase.
In an email, Epic Rights reps told Bustle, "Some merch will be available this holiday season. As early as Spring 2018, *NSYNC apparel and accessories will be available at multiple retailers. They will then extend into other product categories in fall of '18 such as fashion products (denim jackets, bomber jackets, windbreakers, loungewear, track suits), footwear, collectible figures, electronics (phone cases, headphones), stationery (calendars, notebooks), and more."
In the meantime, you can get re-acquainted with the band by giving the crew a follow on the official *NSYNC Instagram. The feed features tons of throwback items and "vintage" images of one of the biggest boy bands E-V-E-R.
To put it in context, *NSYNC were the One Direction of the '90s and '00s, and fans have a lot of nostalgic love for the quintet. It's like a fire you can't extinguish.
Wouldn't it be rad AF if these marionettes from the No Strings Attached era were re-issued as part of the new set?
As the '90s gave way to the '00s, *NSYNC fashions and style were emblematic of the era. What will the fashion tops look like? Which iconic *NSYNC looks will they mine inspo from? We're going to have wait and see.
There has been somewhat of a lack of *NSYNC merch in recent years, since the dormant band didn't have a merchandiser, according to Billboard. Sure, you can find some vintage or "inspired by" pieces on Etsy and on eBay. But this new partnership with Epic Rights will mean an infusion of fresh *NSYNC stuff.
If nothing else, a new wave of *NSYNC threads can spruce up your wardrobe while the One Direction merch machine is on pause as those members are off enjoying solo careers.