Daya Could Face Dire Consequences On 'OITNB'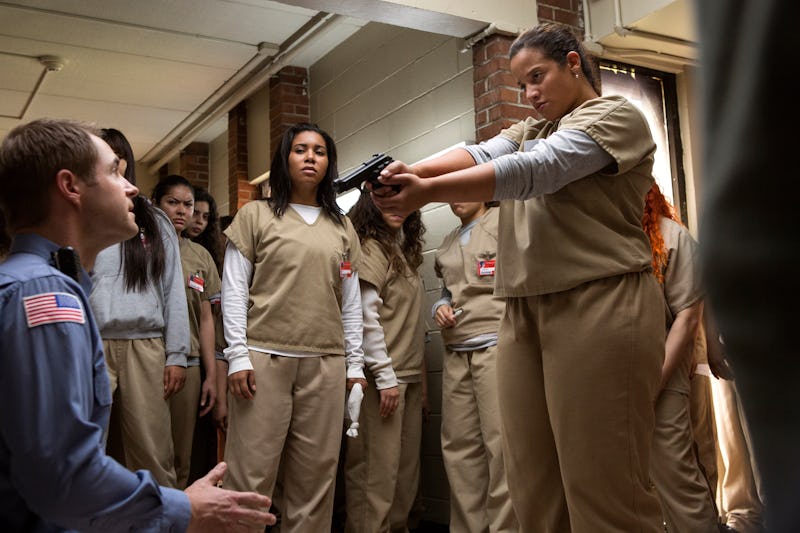 Netflix
Orange is the New Black Season 4 ended with Daya aiming a gun at CO Humphrey as the rest of the inmates cheered her on. There are SPOILERS ahead for Orange is the New Black Season 5, premiering on June 9. So what is the punishment for shooting a prison guard? During the first episode of Season 5, Daya shoots CO Humphrey in the groin, which sparks a Litchfield uprising, in which the inmates take the correction officers as hostages. The first half of the season does not address Daya's consequences for shooting CO Humphrey, but I think it's safe to assume that the incident will keep her in jail for many more years.
In real life, the punishment for attacking or shooting a prison guard seems to be mostly several decades in prison (which can be added to a current sentence) and it seems to vary based on the situation. Last year, Patrick Sullivan was given a 50-year life sentence in prison after shooting CO Juan Guellmes in 2014 while the officer was off-duty and at home in Miami-Dade, reported NBC 6 South Florida. Guellmes survived the wound and was pleased with the sentence, he told the local NBC affiliate.
In 2015, inmate Daniel J. Derda was sentenced to life in prison (with possibility for parole) for attacking and stabbing CO Kevin Ott with a homemade weapon and a shank in 2014 at Saginaw Correctional Facility in Michigan, reported the The Saginaw News. According to the newspaper, Derda had been serving 15-25 years in jail for car jacking and armed robbery at the time and his life sentence will be served after the maximum 25 years.
In 2014, Sean Echols was given a a maximum sentence of 20 years in jail for conspiring with a state prison inmate to kill now-retired CO captain Robert Johnson, who was shot six times in the murder plot, reported The State. Johnson survived the incident, but the identity of the shooter has yet to be identified, according to the newspaper. Echols new sentence is being served consecutive to his current jail time for armed robbery.
Issuing a life sentence to inmates who have shot correction officers has happened as far back as the 1960s. According to the Officer Down Memorial Page, CO Earl Strickland was shot by an inmate in 1969 at Robeson Correctional Center in North Carolina and the inmate received life in prison on top of his 70-120-year sentence for second degree murder.
So all of that could indicate that Daya's actions will have severe consequences at the end of the Litchfield riot on Orange is the New Black, but only time will tell just how badly things go.