Nick's 'Bach' Season Has Taken An Emotional Turn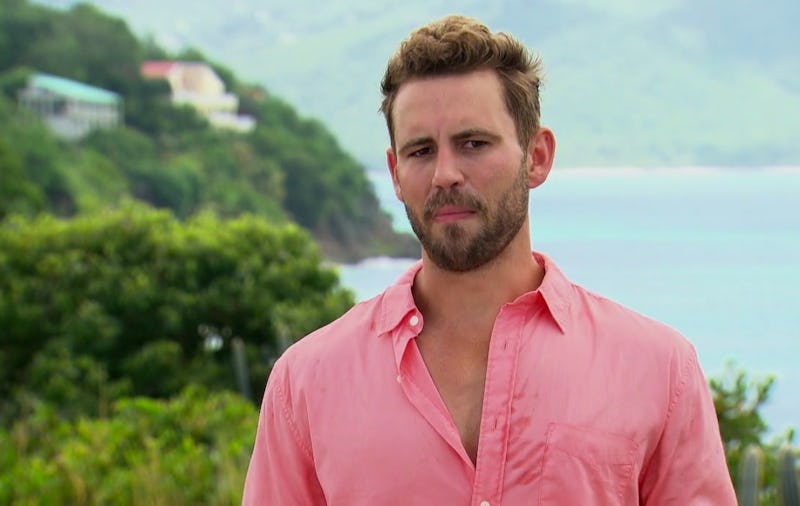 ABC
You know what they say, St. Thomas is the most perfect place to fall in love. It was also the perfect setting for some Bachelor drama on this week's episode. Nick took the women on a trip filled with sunshine, booze and fun, but the fun didn't seem to last too long. By the end of the episode the only thing on everyone's minds was what was up with Bachelor Nick Viall this week? It's something Bustle's Bachelor podcast took a deep dive on in this week's episode.
The Bachelor said goodbye to six women during Monday's episode and this led to some serious tension between the contestants. This episode proved to be an emotional one for the women, but more so for Nick. He realized that he couldn't reciprocate the same feelings that Danielle L. had for him. This then led him to question if being the Bachelor was right for him.
On this week's episode of Will You Accept This Podcast? (which you can listen to here) Bustle's Senior Entertainment Editor Kelsea Stahler and Romper Senior News and Entertainment Editor Allison Piwowarski break down what's tearing up Nick's heart. Kelsea thinks that he's battling his own insecurities from his past relationships and feeling that he's not worthy of finding love. They both agree that sh*t got weird and dark, but there's still hope for Nick to find love this season.
Despite this being Nick's third time being on The Bachelor, this is his first time in the driver's seat. He's experiencing the pressure of this role and starting to see the impact his actions have on these women. So the stress and anxiety he's feeling are totally understandable emotions. It can't be easy to be in his shoes, and he's doing a good job in spite of all the emotional turmoil he's facing. Nick, if you're reading this, sit back, have a drink and enjoy yourself! It'll all be OK.