This F*ck Kavanaugh Lipstick Protests The SCOTUS Nominee By Donating Proceeds To Anti-Sexual Assault Orgs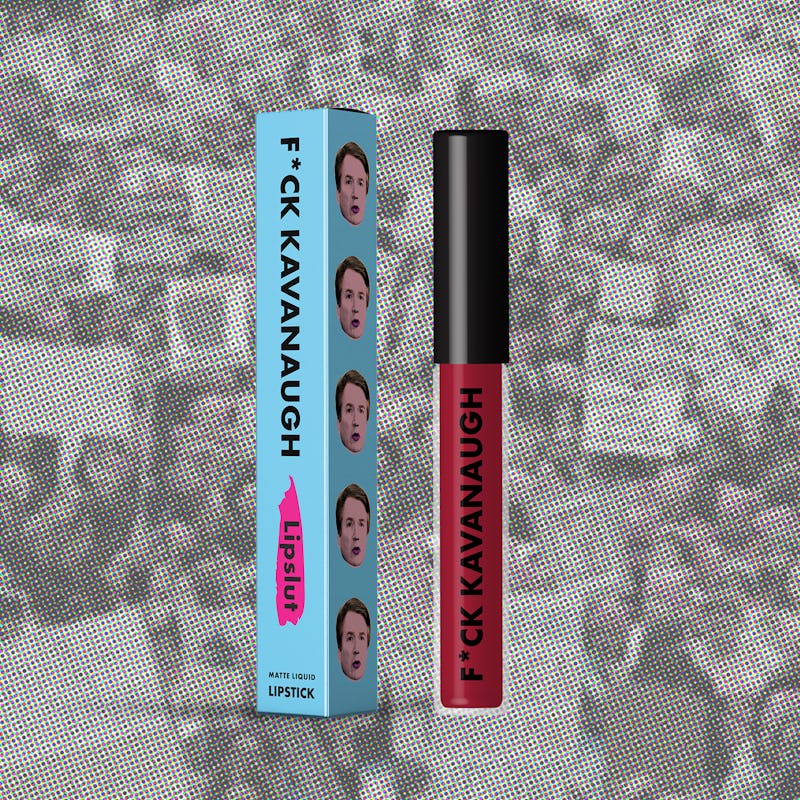 Courtesy of Lipslut
Activist beauty brand Lipslut, which released its F*ck Trump matte liquid lipstick, continues to raise awareness and to be incredibly socially conscious. Lipslut has launched the F*ck Kavanaugh liquid lipstick and it's the perfect shade of protest red. The actual tone of the color has specific meaning in relation to the politico after whom it's named.
The lipstick was created in the wake of Brett Kavanaugh's nomination to the Supreme Court and subsequent accusations of alleged sexual assault.
From now through Sunday, Oct. 7, Lipslut will be donating 100 percent of the proceeds from pre-orders of the F*ck Kavanaugh liquid lippies towards anti-sexual assault organizations. Some of the advocacy groups the brand plans to work with include RAINN, NO MORE, National Alliance to End Sexual Violence, and End the Backlog, according to company founder Katie Sones.
The pre-order is live, with the tubes expected to ship in the next six to eight weeks.
Previously, Lipslut raised over $100,000 to fight injustices — like Trump's immigration policies that shook Americans to their core earlier this year. But rather than simply celebrate past efforts and victories, Lipslut continues to be reactive in the best way. It keeps pushing forward and fighting to right social wrongs.
Sones tells Bustle via email that the brand polled its Instagram community about what color a F*ck Kavanaugh lippie should or could be. It was a true crowd-sourced moment.
"The resounding winner was a dark red," Sones says. "After seeing Kavanaugh's hotheadedness at the hearing, we thought a 'calm, cool, and collected' shade would be fitting. Imagine a cool-toned maroon." #Brilliant
Indeed the shade is gorgeous and oh-so-wearable. It hits on the ever-popular velvet lip look that pigmented and precise mattes offer.
"While watching the hearing and the events leading up to it, I got so upset seeing women's voices being ignored, doubted, and flat-out denied," Sones, who started the brand in college on the night of Trump's inauguration, says. "If the highest levels of government won't listen to us, who will? To me, this entire mess serves as a microcosm for how thousands of women's experiences and traumas are treated everyday — we had to act."
Lipstick isn't simply about making your pucker pretty. It's about making a statement — and not just by being a bold, adventurous color. It's a tool for change and one that empowers the women who wear it in multiple ways. It's also a passive but powerful way to do good. You effectively speak out through your dollars.
The brand's ethos integrates philanthropy into everyday life — all enhanced by quality, wearable lipsticks. Lipslut's mission is the promotion of feminism and self-expression in addition to spotlighting injustices — one lipstick wand at a time. All. Beautiful. Things.
Right now, the F*ck Kavanaugh lippie is 100% for charity, 100% against assault. Speak up with a swipe across your lips.