If You Live In One Of These Cities, Your Local Starbucks Now Has Sushi Burritos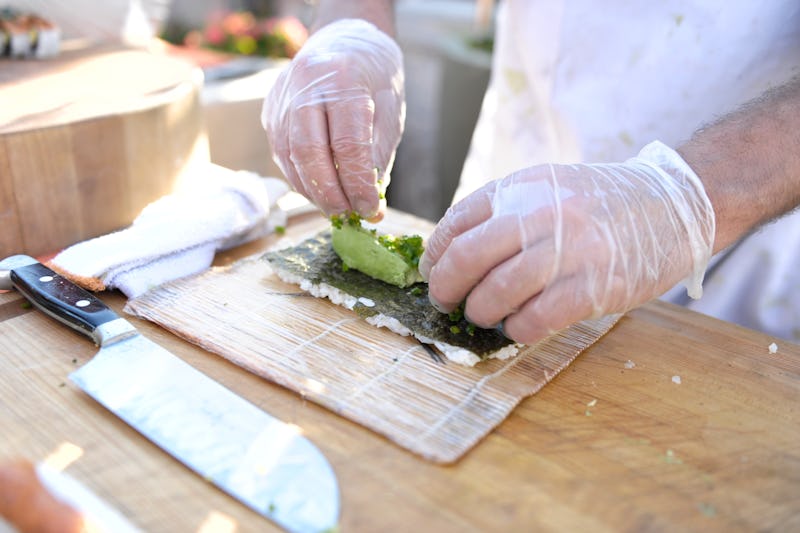 Sergi Alexander/Getty Images Entertainment/Getty Images
New to the Mercato lunch menu is something you'd never expect to see at a Starbucks: Sushi burritos. Yes, in addition to the soups, salads, sandwiches and desserts being sold as a part of the new Mercato fresh lunch food initiative at Starbucks, they're diving into a venture a bit outside of the box: maki rolls. But, where can you find these sushi burritos at Starbucks?
I know, you're probably thinking that America's favorite coffee chain shouldn't be branching into raw fish, but don't worry: they're actually not. The new sushi burrito features shredded chicken instead of raw fish, and TBH, it sounds pretty good. This sushi roll is stuffed with sushi rice, shredded chicken, cucumber, pickled cabbage, onion, and avocado, drizzled with tomatillo salsa and lime crema, and of course, is wrapped in seaweed. It's like the perfect marriage of Asian and Mexican cuisine, and the perfect array of flavors for a complex and tasty lunch break.
But before you get too excited about your new go-to lunch item, I should tell you that it's only available right now at two downtown locations in Chicago, and in Seattle — so great news if you live in those areas and major FOMO news if you don't. It seems like Starbucks likes to roll things out at these locations before introducing new items to the rest of the country, so it's possible they could expand to other stores soon.
Until then, here's a sneak peek at the roll:
Basically it looks pretty standard and delicious — healthy, even. It's hard to tell from the picture, but I imagine I'm going to want to have more than one.