Here's Where Winter Storm Quinn's Expected To Wreak The Most Havoc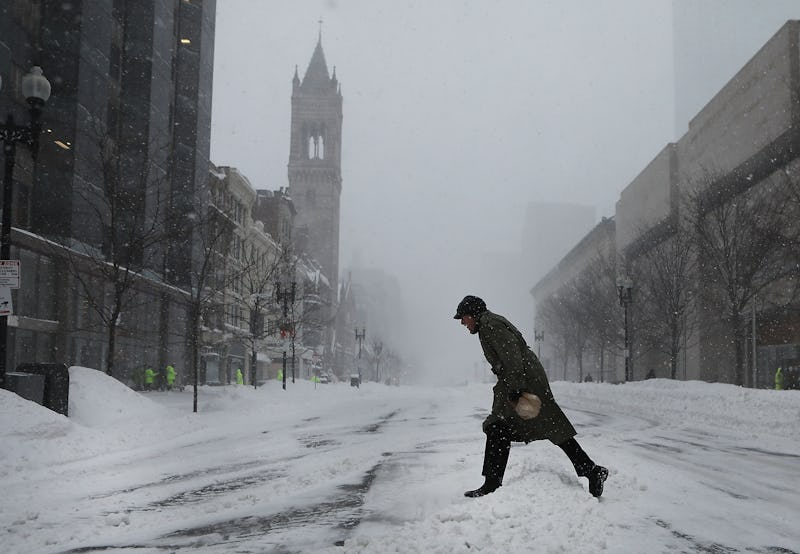 Spencer Platt/Getty Images News/Getty Images
As East Coasters know best, this Winter has not been kind. And just when you thought the worst was over, another storm proved otherwise. On Wednesday, Winter Storm Quinn is expected to slam the Northeast with blustery winds, cold temperatures, and, of course, lots of snow.
On Tuesday, the New York Times reported that areas in New York, New Jersey, Massachusetts, Connecticut, and Pennsylvania could get a foot of snow dumped on them before the week is over. Lots of these places are still trying to get back up on their feet after another wicked nor'easter, Winter Storm Riley, struck less than a week prior. The deadly storm, which killed at least nine people, left nearly 3 million citizens without electricity. By Tuesday, over 200,000 still didn't have power according to the U.S. Energy Department's estimates. And snow wasn't the only problem — lots of other households experienced immense flooding. Similarly, some areas expected to be affected by Quinn could suffer downpours instead of blizzards.
In fact, lots of major cities have already declared states of emergency in preparation for Quinn. As the Weather Channel reported, those cities so far include Philadelphia, Boston, and New York City. The night before the storm was expected to hit, New York Governor Andrew Cuomo issued a statement to warn New Yorkers:
We are talking about significant snow for tomorrow. We expect that travel will be problematic. We expect that there will be delays at airports, etcetera. We're deploying personnel and equipment across the state now to affected areas - this is going to be more in the eastern part of the state. So, we'll have the personnel and equipment there, but it's going to be a wet and heavy snow and there's going to be a lot of it. And it's going to fall quickly.
He also revealed a storm assistance hotline: 866-697-2434. Similarly, Pennsylvania Governor Tom Wolf made a statement Tuesday about the safety precautions being taken:
We are working with state agency partners to make sure county emergency management coordinators have quick and unfettered access to state resources as they're needed. We also cannot emphasize enough the need for the public to take these storm warnings seriously, stay tuned to local media for weather updates and avoid any unnecessary travel.
After hitting New York, eastern Pennsylvania, Massachusetts, New Jersey, and potentially Rhode Island and D.C. on Wednesday, the storm will move north. On Thursday, parts of New Hampshire, Vermont, Maine, and Massachusetts should expect heavy snow. During those two days, between one and two inches of snow (or more) could fall every hour.
It might come as a surprise then that Winter Storm Quinn didn't actually begin in the Northeast. Instead, that region is its final stop. The Weather Channel noted that Quinn battered the West Coast and Northern Plains before moving eastward towards the Atlantic. In a Weather Channel article, meteorologists, who authored the piece, described how the brutal storm was born in the first place:
Winter Storm Quinn began as a slow-moving, but deep trough dropped southward from the Gulf of Alaska toward the Pacific Northwest on Feb. 28. A cold front associated with Quinn swept through the West Coast, from Washington to central California, on March 1 with a reinforcement of moisture and cold air.
At the very beginning of March, to put it into perspective, certain areas in Northern California accumulated over 80 inches of snowfall due to the storm. Areas in the southern region of the state got lots of rain instead. By March 4 and 5, Quinn had hit the Dakotas, dropping nearly 20 inches of snow.
Now it's the East Coast's turn — yet again. If you live on the East Coast, be sure to stay up to date with weather warnings and, if you can, avoid traveling.