Trump Finally Issued A Statement On McCain After Getting A Ton Of Backlash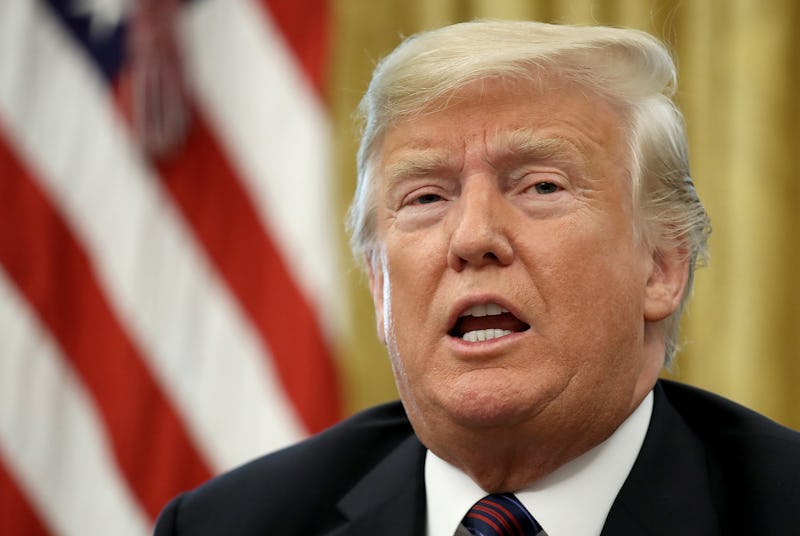 Win McNamee/Getty Images News/Getty Images
On Monday afternoon, President Donald Trump responded to John McCain's death with a public statement. The statement announced that U.S. flags would be flown "at half-staff until the day of his internment."
"Despite our differences on policy and politics, I respect Senator McCain's service to our country and, in his honor, have signed a proclamation to fly the flag of the United States at half-staff until the day of his internment," Trump said in the statement.
Trump also said that he asked John Kelly, James Mattis, and John Bolton to represent the administration at McCain's services. He also said that he requested that Vice President Mike Pence "offer an address at the ceremony honoring Senator McCain at the United States Capitol this Friday."
After McCain died, Trump reportedly declined to issue a formal statement, opting for a tweet instead, according to The Washington Post.
"My deepest sympathies and respect go out to the family of Senator John McCain. Our hearts and prayers are with you!" Trump tweeted Saturday evening, shortly after McCain's death was publicly announced.
Trump's statement provoked criticism. Namely, many people were upset that the president declined to praise McCain for his military and Senate service. Most eulogies and statements about McCain's death specifically described McCain as a war hero, and lauded him for his many, many years working in Congress. Trump opted to break from that trend.
Notably, Monday's statement still doesn't specifically refer to McCain's military service, nor his time in Washington. Instead, it mentioned his "service to our country."
"Currently, every flag across the nation is flying at half-staff to honor the great John McCain except the flag at the White House," Twitter user Ryan Knight wrote on Twitter. "Donald Trump is flagrantly disrespecting an American war hero and the American flag."
The administration also received criticism for returning the White House flags to full staff on Monday, less than two days after McCain died. According to HuffPost, the flags are traditionally lowered for a day and a half after a member of Congress dies. Extending the length of an honorary half-staff requires a presidential proclamation, per HuffPost.
A particular sticking point for critics concerned Trump's opposition to NFL players kneeling during the national anthem as a way to protest police brutality and racial inequality. Many online compared Trump's opinion on those protests to the state of the White House flag following McCain's death.
"President Trump doing more to disrespect the flag today than anything I've seen from NFL players," political scientist Ian Bremmer tweeted.
Though Trump did not initially release a formal, lengthy statement after news of McCain's death broke, many others who work in and around his administration did. Among them were Attorney General Jeff Sessions, Senate Majority Leader Mitch McConnell, and House Speaker Paul Ryan.
Though Trump didn't detail McCain's accomplishments in his new statement, the press release issued on Monday did suggest that Trump heard those who disagreed with him. It's unclear whether he will make any further comments.