Police Are Investigating A Disturbing Video Showing Cheerleaders Being Forced To Do Painful Splits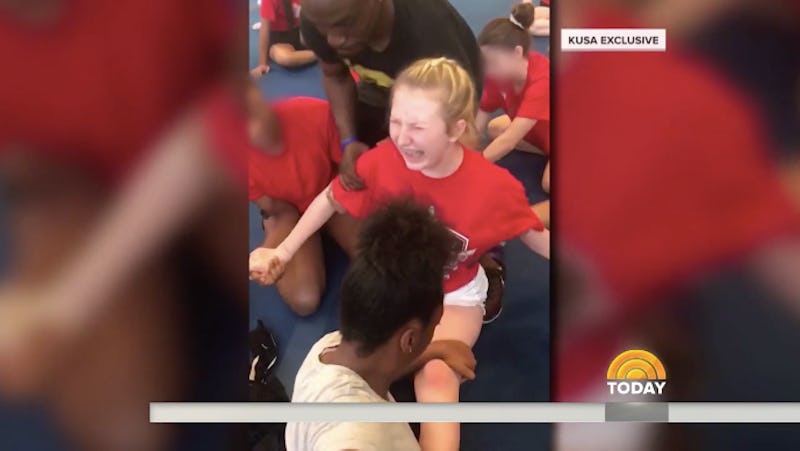 KUSA/TODAY
Police in Denver, Colorado have launched an investigation after a disturbing video of a high school cheerleading coach forcing girls to do splits despite their pleas to stop and cries of pain was brought forth by a parent. The video, which was first released by NBC News affiliate KUSA, shows eight students at Denver's East High School reportedly being held against their will in a painful split position during a summer cheer camp. The school's cheer coach, assistant cheer coach, principal, and assistant principal have reportedly been placed on leave along with the Denver Public School System's deputy general counsel as a result of the incident.
In an interview with KUSA, 13-year-old incoming freshman Ally Wakefield claimed she was physically forced into the splits by her cheer coach. "It was tearing my ligament and my muscle at the same time," NBC's Today reported Wakefield told KUSA. "He was pushing down on the back of my right leg. He was pushing like with his other knee on my back to try to keep my posture straight."
According to KUSA, the footage captures at least eight girls being forced to hold the splits position while their teammates restrain their arms and recently hired coach Ozell Williams pushes them down further into the splits.
While the disturbing footage has only recently been made public – it was submitted anonymously to KUSA earlier this month – school administrators have reportedly known about it since June. According to KUSA, Wakefield's mother emailed at least some of the footage to East High School Athletic Director Lisa Porter when she filed a complaint against Williams on June 15. "This is how Ally injured her leg," KUSA reported Wakefield said in her email. "My husband and I would like to know what the administration is going to do about my daughter's injury and how it happened."  
In a letter dated Aug. 23 and addressed to "East High School Families," Superintendent Tom Boasberg announced the Denver Police Department and the Denver Public Schools' Department of Safety had begun an investigation into the incident. "We want to reiterate our commitment to the safety of our students," Boasberg stated in the letter. "We absolutely prohibit any practices that place our students' physical and mental health in jeopardy. We do not and will not allow any situation in which a student is forced to perform an activity or exercise beyond the point at which they express their desire to stop."
Boasberg also said it was "standard practice" in an investigation of this nature to place any potentially involved staff members on leave and the move should not be taken as an implication of guilt of judgement.