Who Is Ben Aldridge From 'Our Girl' Dating IRL & What Were The Michelle Keegan Rumours?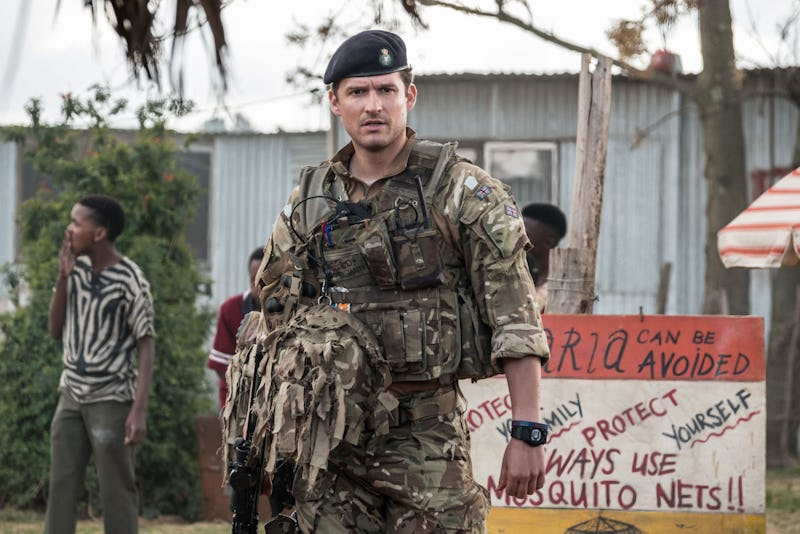 BBC
Ben Aldridge is fast becoming one of the most popular faces on telly at the moment. He's a firm favourite in BBC's Our Girl as Captain Charles James, and his character is beyond charismatic — well, apart from when he tried to crack on with Corporal Georgie Lane (Michelle Keegan) last week. She's the fiancee of your dead best friend, dude. But back to Aldridge. Judging by his Instagram account, amongst the behind-the-scenes and family photos, there seems to a certain lack of romance. That begs the question… who is Ben Aldridge dating?
Well, it's safe to say that he has had his fair share of on-screen relationships. From Molly Dawes (Lacy Turner) in Our Girl Season 1 to Phoebe Waller-Bridge's titular character in Fleabag, it is not hard to see the appeal of any character played by the star. So it's no surprise that Aldridge is often cast as a love interest. But IRL Aldridge's love life is a bit of a mystery. You see, he doesn't just excel in the realm of acting — he's also a sleuth when it comes to keeping his social media accounts strictly work related. So there's no word (or photographic evidence) of a significant other.
In 2016, when Michelle Keegan first joined the cast of Our Girl, rumours began to circulate about her chemistry with Aldridge. After posting a photo of herself with the cast on Instagram, which showed the actress resting her hand on his shoulder, some of her followers couldn't resist commenting on the gesture. This is despite the fact that she was and still is happily married to Mark Wright. However, there were so many reports that Aldridge's spokesperson spoke out to deny the rumours to Look magazine: "It's a fabricated and made up story."
This is pretty much the first and last time Aldridge has made any comment on his private life whatsoever. But that's not to say there isn't some personal insight into the actors life outside of filming Our Girl. He continuously posts some of the most tear-jerkingly adorable photos dedicated to those close to him on his Instagram, especially the little ones in his family. If Aldridge does actually have a significant other, it's safe to say it seems that they'll be snug within a close, lovable family.
Training with the National Youth Theatre and studying at the London Academy of Music and Dramatic Art, Aldridge is pretty well versed in his craft. The 32-year-old Exeter-born actor has been racking up performances in numerous projects since his television debut in 2008, and there is no sign of him slowing down (thank God). In addition to Our Girl, he's also featured in numerous other TV projects, including Reign, Lark Rise to Candleford, and Fleabag. He's also been in films such as Paris Song and The Titan.
When he's not busy working, Aldridge is an avid contributor to charities. He recently became an ambassador for UK based non-profit Send A Cow and is currently preparing for a 10-mile run to raise £1,850 on JustGiving for the organisation. Striving to "end poverty for families in rural Africa", Send A Cow is a vital tool in creating "a better future" for families and their communities. The "10 Mile Tough Mudder" race he plans to take part in is set for July 8, and you can donate here.
Aldridge is also a part of Send A Cow's #UnheardVoices movement, alongside Our Girl co-star Keegan and other notable names such as Bob Geldof, Prue Leith, Andrew Scott, Sophie McShera, and Adjoa Andoh.
To conclude, anyone would be lucky to have a boyfriend that is extremely charitable like Aldridge — oh, and has Ferris Bueller's Day Off as their Twitter header. All I can say is that I'm available, Aldridge. Just saying...