Everything You Need To Know About 'Love Island' Newcomer Christen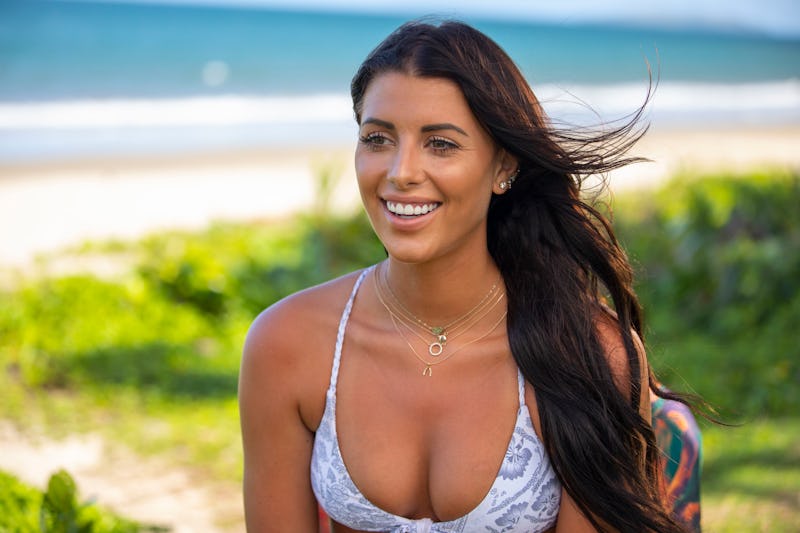 Colin Young-Wolff/CBS Entertainment
As much as it feels like the love in the air is thickening around the couples, Katrina and Christen arrived on Love Island to remind the islanders that no one is safe. So far, there are a few couples who seem solid (for now): Yamen and Alana, Zac and Elizabeth, and Dylan and Alexandra, who were awarded a night in the Hideaway after finishing first in the "Float My Boat" challenge. Cashel and Kyra like each other, but could easily be shaken by these two new arrivals, Caro and Cormac admitted they weren't a great match, and Mallory and Weston will likely be saying their goodbyes sooner rather than later. What does that mean for Christen? We're about to find out.
According to her brief intro during the July 15 episode, she is a a 24-year-old who works in sales and business development for a clothing company and she's from Louisville, Kentucky. She and her fellow Love Island newbie, beauty queen Katrina, were summoned as a semi-birthday gift for cowboy Weston. The crew gathered to celebrate when he received a text message revealing the news that ended with the hashtag #RoomForTwoMore.
Other than their names, the text didn't provide much information about the new women. Thankfully, a quick Google search of Christen's full name — Christen McAllister — reveals much more about her.
One of the first things that pops up is a Fox News report that Christen was charged with arson after allegedly setting her college roommate's bed on fire back in February 2017. According to arrest records, she confessed to setting the fire. But there's a lot more to the Love Island newcomer than just that.
Her Twitter bio calls her "Tall & Awk" and Instagram says that she's based in Kentucky and California. Her LinkedIn says she earned a bachelor's degree in marketing from University of Louisville in 2017 and moved to Los Angeles just afterwards to expand her horizons and her "love and knack for business, while seeking exciting, new opportunities."
Her official job title is manager of client relations for Yes! Embroidery (if the profile has been accurately updated), and she also models for the Heyman Talent Agency. Christen also placed 5th in the 2017 Miss Kentucky USA pageant, so she and Katrina might bond over their shared beauty pageant experience.
She's also kind of Instagram famous, with 52,000 followers. Right now, her mom is running the account while she's down in Fiji, which is a brave, yet admirable, move. However, her mom seems to be doing a solid job keeping Christen's social media presence up during filming — — she's been posting glamour shots on Instagram and right now, Christen's Twitter bio links to a music video she recently starred in, "Broken Love" by The Him, featuring Parson James.
Her romantic role in the video shouldn't mean she's bringing skeletons to the island, but she did recently retweet a meme that could foreshadow her Love Island strategy:
If the meme holds any truth and her game shares similarities with that of stingy Mr. Krabs', she'll definitely be one to watch.