Trump's Personal Assistant You Never Heard About Was Just Dramatically Fired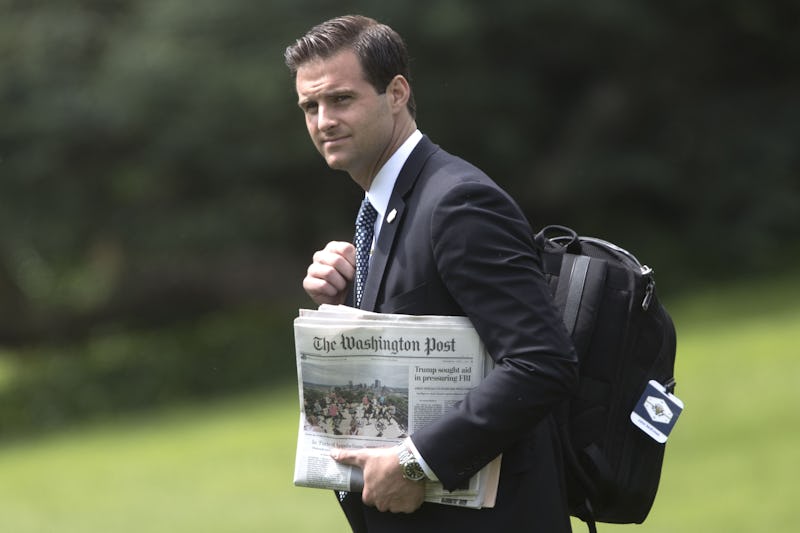 MICHAEL REYNOLDS/EPA/REX/Shutterstock
Around the same time that the White House ousted Secretary of State Rex Tillerson, it was announced that Trump's personal assistant, John McEntee, had been fired as well — and in dramatic fashion. McEntee was reportedly escorted off of White House premises without being given a chance to collect his belongings, even his jacket.
The reason behind McEntee's forced departure is still not clear. The Wall Street Journal reported that it was because of "an unspecified security issue." CNN's Kaitlan Collins reported that the Department of Homeland Security is currently investigating McEntee for "serious financial crimes" unrelated to Trump. Bustle has reached out to the White House for comment.
White House Chief of Staff Gen. John Kelly recently made significant changes to the security clearance policy at the White House after it was revealed that multiple high-ranking officials had been handling highly classified material without the proper clearances in place.
McEntee joined Trump's presidential campaign in 2015, so at the time of his firing, he was one the longest serving-members of his political outfit. The Journal reported that he has not left Trump entirely and will instead become a senior adviser in the Trump reelection campaign.
Well before joining the Trump political operation, McEntee was the subject of a viral video in which he, a quarterback for the University of Connecticut football team, nailed a series of so-called trick shots. The video, which has garnered over 7 million views on YouTube since 2011, begins with background music by rock group MGMT and rapper M.I.A. (Notably, as a child, M.I.A. came from her native Sri Lanka as a refugee; meanwhile, the Trump administration has actively worked to limit refugee resettlement in the U.S.)
Immediately before he started working with the Trump campaign, McEntee worked at Fox News. He then joined the campaign as a volunteer and soon took an offer to become a full-time employee; as he told Bloomberg, "I bought into the message. ... I was sick of the career politicians."
According to a POLITICO profile of McEntee, written a year after Trump took office, Trump's former body man quickly rose through the ranks because of his strong work ethic, his willingness to do whatever task was required of him, his ability to keep a secret, and his absolute loyalty to the president.
"He literally loves the president. Not even to me, he would never say anything negative, not in a million years," McEntee's father, John, told POLITICO. "He loves the president and that family. Jared and Ivanka, too."
Besides that, another former presidential body man also said that his background as a high level college athlete would have prepared him for the role well. Reggie Love, former Duke basketball and football player and former Obama body man, told POLITICO that after leading a football team, McEntee would have been more than ready to effectively back up the president in the White House — "On a football team, you understand that you represent a brand and a team, that you're part of something larger than yourself."
No reports had emerged prior to McEntee's firing about the president being at all unsatisfied with his work, similar to what happened with recently departed White House staffers Hope Hicks and Rob Porter. Their cases bear particular resemblance to McEntee's, as Trump's former communications director and staff secretary, respectively, also served the president very closely and managed to mostly stay under the radar — a trait that this president in particular seems to appreciate very much. As McEntee's position with the Trump reelection campaign has already been announced, it seems as though the unidentified problem with his security clearance did not have a major effect on the president's regard for him.