The Woman Who Will Oversee The Manafort Case Has Been Kicking Ass For 30 Years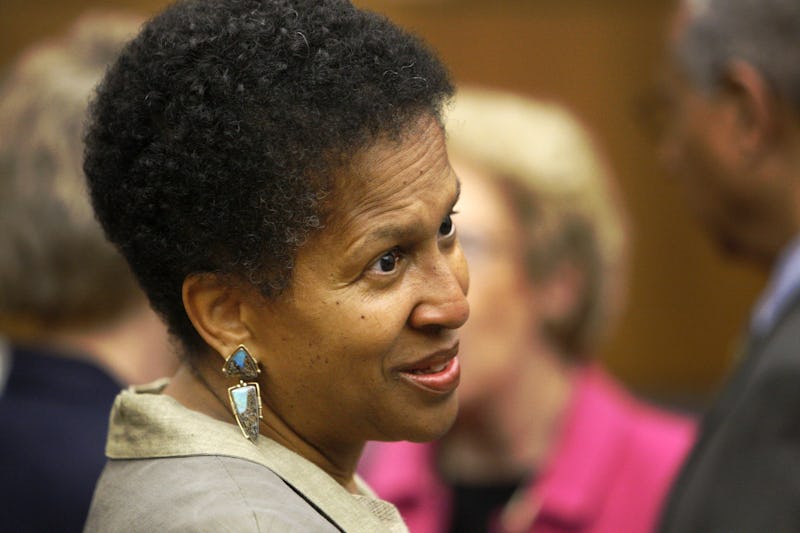 Charles Dharapak/AP/REX/Shutterstock
News broke Monday morning that Special Counsel Robert Mueller has officially brought charges against former Trump campaign chairman Paul Manafort and Manafort's business associate Rick Gates. U.S. Magistrate Judge Deborah Robinson will preside over the Manafort indictment, and a look into Robinson's storied 30-year career behind the bench shows her overseeing several high-profile cases involving drug lords, top White House officials, a former D.C. mayor, and even an NBA All-Star.
Robinson is no stranger to overseeing political scandals involving high-profile figures. In 2005, Robinson presided over a guilty verdict case that involved President Bill Clinton's former national security advisor Sandy Berger. Berger ultimately pleaded guilty to purposefully removing classified documents dealing with Sept. 11 terror threats from the National Archives and destroying them by cutting them up with scissors, according to NBC News. Robinson also upped the fine from $10,000 to $50,000 for Berger, saying that would more "sufficiently reflect the seriousness of the offense."
Robinson also presided over the trial of Lewis "Scooter" Libby, a former White House aide in the George W. Bush administration. Libby was convicted in 2007 of lying to authorities and interfering with a 2003 investigation into the leak of a CIA agent's identity, according to The Washington Post. Libby was sentenced to 30 months in prison before President Bush commuted his sentence later that year.
In 2007, Robinson also denied a bid to revoke former D.C. Mayor Marion Barry's probation after he failed to file tax returns for the seventh year in a row. Barry was sentenced to probation in 2006 over misdemeanor charges of failing to pay federal taxes and Robinson ruled that prosecutors couldn't prove that Barry "willfully" failed to file his tax returns in 2005, according to The Washington Times.
In non-political cases, Robinson presided over the 1989 preliminary hearings in the case against Rayful Edmond III, a notorious drug kingpin who was responsible for establishing one of Washington D.C.'s largest drug distribution networks and has been credited with introducing cocaine to the city during the 1980s, according to The Washington Post. Edmond was sentenced to life without parole in 1990, and federal authorities revealed that Edmond has since become a government informant in order to catch more drug dealers in D.C.
Perhaps one of Robinson's most famous defendants was Allen Iverson, a star player for the NBA's Philadelphia 76ers. In 2005, Iverson was arrested for getting into a fight in a D.C. night club, and a lawsuit was brought against him for assault. Robinson denied Iverson's request to give his testimony in Philadelphia instead of Washington D.C.
Judge Robinson is one of few black women to serve as a judge in D.C. and one of the district's three term-appointed magistrate judges. In Washington, D.C., a city whose population is nearly half black, only one of the 13 judges serving on the U.S. District Court is a black woman.
A graduate from Morgan State University and Emory University Law, Robinson was sworn in as magistrate judge on July 18, 1988. Robinson previously spent eight years as an assistant U.S. attorney and prosecuted criminal cases in the Superior Court and the U.S. District Court. Robinson has argued in the District of Columbia Court of Appeals and the District of Columbia Circuit, as well as served in the Civil Division.
Manafort and Gates are currently being charged with 12 counts of "conspiracy against the U.S., conspiracy to launder money, unregistered agent of a foreign principal, false and misleading U.S. Foreign Agents Registration Act (FARA) statements, false statements, and seven counts of failure to file reports of foreign bank and financial accounts." Manafort was seen arriving at the FBI's Washington office on Monday; he and Gates are being processed separately for the charges.