Meet The Awesome Artist From 'Tattoo Girls'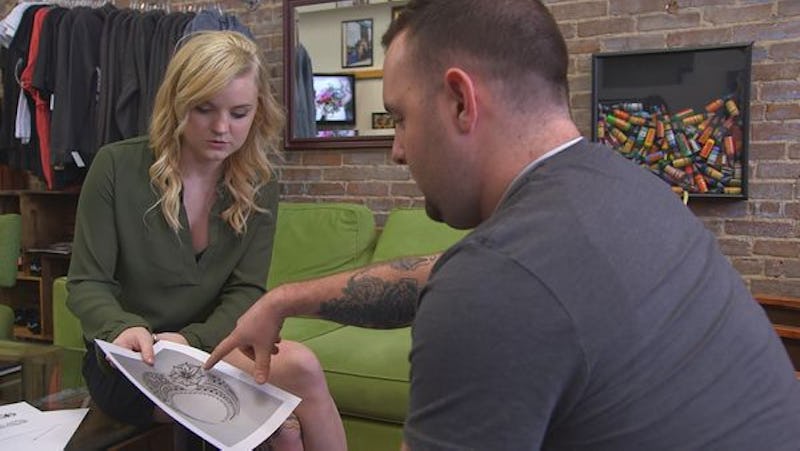 TLC
There are a lot of tattoo shows floating around in the reality television world right now. At any given time there is sure to be a show that will satisfy any body art enthusiast. What the genre has seriously lacked though, is a series that focuses on the women that are succeeding in this male-dominated profession. Well, fear not because TLC is releasing a brand new reality series called Tattoo Girls, which will follow Springfield, Missouri Tattoo Girls shop owner Kelsey Rogers and her Ink Ink crew.
Ink Ink is Missouri's only all-female tattoo shop. They don't just do tattoos either. They have a cast of talented piercers on staff as well. According to their website, one of the perks of using this place for your body art needs is that the entire crew pools their creativity for every tattoo and every piercing. You will get the opportunity to have a lot of different, talented artists' input on your piece. It seems like that would certainly make it so much more special. This vision was cultivated by the owner, Kelsey Rogers. But, who is Kelsey?
According to her bio on her shop's website, the fierce entrepreneur started tattooing at the young age of 17 — but that's not all she had on her plate during her senior year of high school. Aside from an apprenticeship, which is not an easy gig, she also competitively danced and competed in beauty pageants.
Impressed yet? After graduating high school, Kelsey attended Missouri State University as a pre-med student. She spent eight years doing the college thing before deciding that tattooing was her destiny. Now she's been tattooing for eight-and-a-half years and just opened a second location of Ink Ink in Branson, Missouri in 2016. Things are really taking off for this amazing woman. Make sure you check her out on Tattoo Girls Jan. 24 on TLC.