What To Know About The Cheerleading Coach Who Forced High Schoolers To Do Splits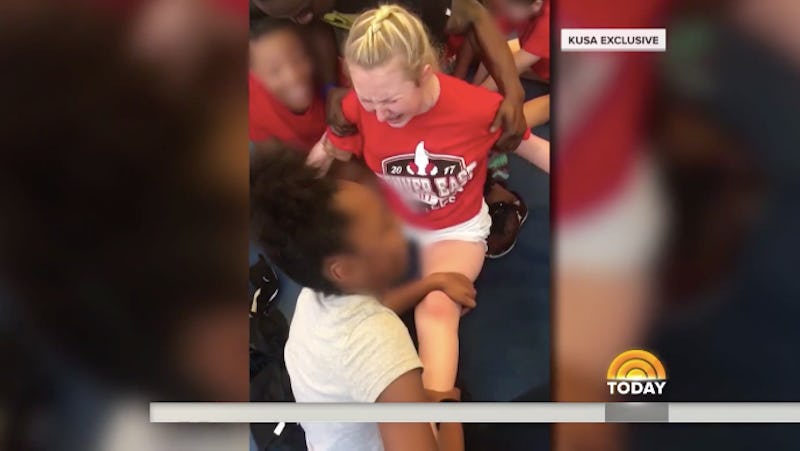 KUSA/TODAY
Police in Denver, Colorado, are currently investigating the video of an East High School cheerleader who appeared to have been forced to do excruciating splits by her coach. In the video, 13-year-old Ally Wakefield can be seen screaming "please stop" nine times in less than 24 seconds. The cheerleading coach under scrutiny is Ozell Williams, who had allegedly forced the young student to perform leg-wide splits against her will.
The shocking video was reportedly taken in June at a summer cheerleading camp, though the investigation only began in August. At this moment of the investigation, several individuals are on leave including the Denver Public Schools deputy general counsel, assistant principal, high school principal, assistant cheer coach, and cheer coach.
The first report of the video came from KUSA, showing Wakefield forced to do a split while several students held her down. Wakefield was reportedly not the only one to endure such a practice session; other students were also shown being forced into uncomfortable, painful positions as their arms and legs were held down.
Wakefield's parents issued a note to the school's administration with the video attached in June. "I have attached a video of the forced splits she and her other team members were forced to do at cheerleading camp and practices; unless they had a doctor's note. This is how Ally injured her leg," Kirsten Wakefield, Ally's mother, reportedly wrote in her email addressed to Lisa Porter, the high school athletic director.
Prior to the disturbing cheerleading practice event, Williams was apparently famous for his strenuous backflips during Bronco football games. According to 9News, an affiliate of NBC News, this was his first year at East High School in a coaching capacity. But now, as the Denver police conduct an investigation, Williams is reportedly on leave.
Wakefield's parents were quoted in 9News speaking of the distressing video of their daughter being forced to do an extended leg-split. In the apparent note to the school's athletic director, Wakefield's mother demanded to "know what the administration is going to do about my daughter's injury and how it happened."
Other parents of young cheerleaders on the team had also expressed shock and worry over the incident. According to 9News, this wasn't the first time they had raised the issue. Since June, concerned parents shared their complaints with the school's administration as well as Williams. After the report garnered media attention along with repeated requests from 9News for records, the school issued a statement.
The superintendent of Denver Public Schools, Tom Boasberg, issued a statement to allay the grievances of parents and said the administration was committed to "the safety of our students."
"We absolutely prohibit any practices that place our students' physical and mental health in jeopardy," Boasberg said.