Trump's Potential Top USDA Scientist Is Not A Scientist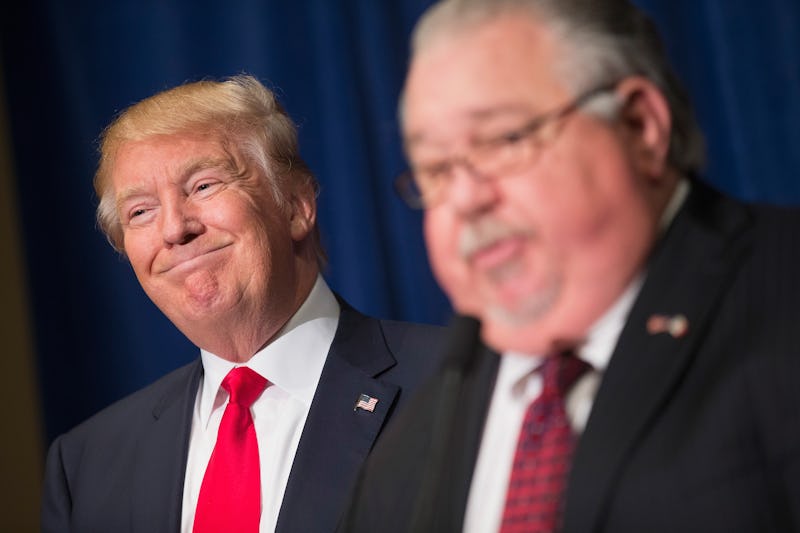 Scott Olson/Getty Images News/Getty Images
If there's one thing that the Trump administration has taught us, it's that even the least surprising moves can still be upsetting. Completely in keeping with his pattern of placing people in high-ranking positions for which they have no clear background, Trump's potential top Department of Agriculture scientist has no science background — besides a history of loudly and forcefully denying the reality of climate change.
At the moment, it seems likely that Trump will tap former campaign adviser and climate change denier Sam Clovis to be the undersecretary for research, education, and economics at the USDA. This position heads up the USDA's entire scientific mission, and in the past, the people holding it have been experts in some scientific field, be it public health or biochemistry. According to Catherine Woteki, who held the position for seven years during President Obama's tenure, "It should be a person who evaluates the scientific body of evidence and moves appropriately from there."
Clovis has no discernible experience in evaluating any bodies of scientific evidence. He does, however, have a long history of working on Trump's political team. He came on as the national campaign co-chair in 2015, and apparently he was one of the minds behind the Muslim ban proposal. His background is much more politics- and policy-oriented, and his doctorate is in public administration.
He also has a long history of publicly questioning climate science, despite his lack of expertise in the field. An interview he did with Iowa Public Radio in 2014 is particularly telling. There, he said:
A lot of the science is junk science. It's not proven; I don't think there's any substantive information available to me that doesn't raise as many questions as it does answers. So I'm a skeptic.
Most scientists — specifically, 97 percent of climate scientists — agree that the warming climate in the past century is due to human activity. In the world of science, whether or not climate change is caused by human activity isn't even a debate anymore.
And yet, as a part of its attack on science, the Trump administration is full of people who choose to believe otherwise. Clovis' lack of scientific experience makes him a terrible choice for this position, and there's still a small chance that the Senate could fail to approve him. However, he conforms exactly to the Trump administration line, and he's clearly a political loyalist. Perfect fit for the position, right? Again, this is not a surprise, given all of the other people who Trump has chosen. But that doesn't make it any easier to hear.