Aria Got A "Prize" On 'PLL'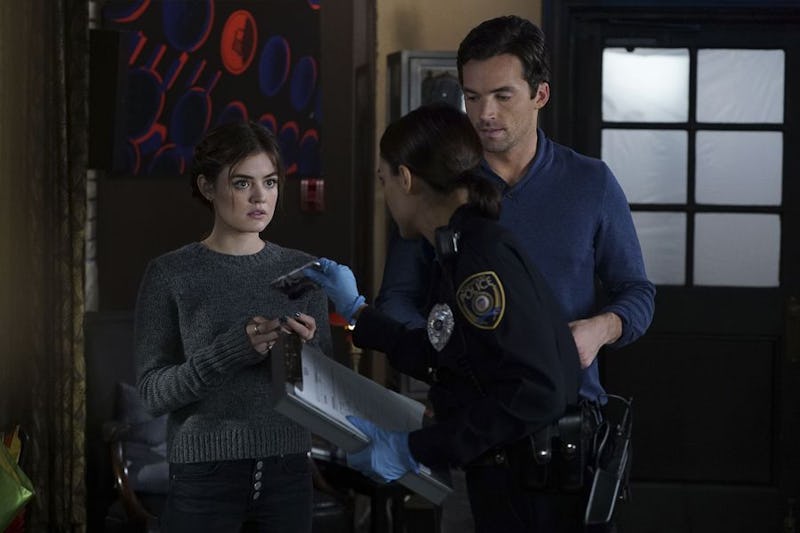 Freeform/Eric McCandless
I thought that last Pretty Little Liars was going to end with all of the couples hooking up, but that was wishful thinking. Of course there was a torturous cliffhanger (or two) at the end there. Now I just want to know whose dead body is in Aria's car on Pretty Little Liars?
How did it get there? I also don't understand how A.D. had the nerve to tell Aria that she "won the game" and that she received an "unlimited supply of freedom" as the grand prize. In what world does having a dead body in the car and getting pulled over by the cops constitute an "unlimited supply of freedom?" It seems like a terrible prize to me.
Sure, this is Pretty Little Liars, so a body was going to surface eventually, but Aria has been getting off scot-free and hurting her squad in the process. So I figured that she would continue getting out of trouble thanks to AD's quest to alienate Aria from the group. Am I surprised a body appeared in a trunk of a car? No. Am I surprised that it's Aria's car out of everyone in the group? Yes. Then again, I shouldn't really trust A.D. for telling Aria she "won" that sick game.
I have to assume that Archer Dunhill's body is in the trunk of Aria's car, but that could be too obvious. I get it: this murder is the main crime of the season, but I need to think outside the box if I'm ever going to figure out what's happening on this show. That's why I think it's Marco Furey's body.
Why would he just leave the case all of sudden and disappear from the entire episode? Could it be because he's dead? I have no "evidence" other than his sudden absence, but it does make sense to me. I guess we will have to wait until next week to find out.