Why Did Beyonce Name Her Baby Sir?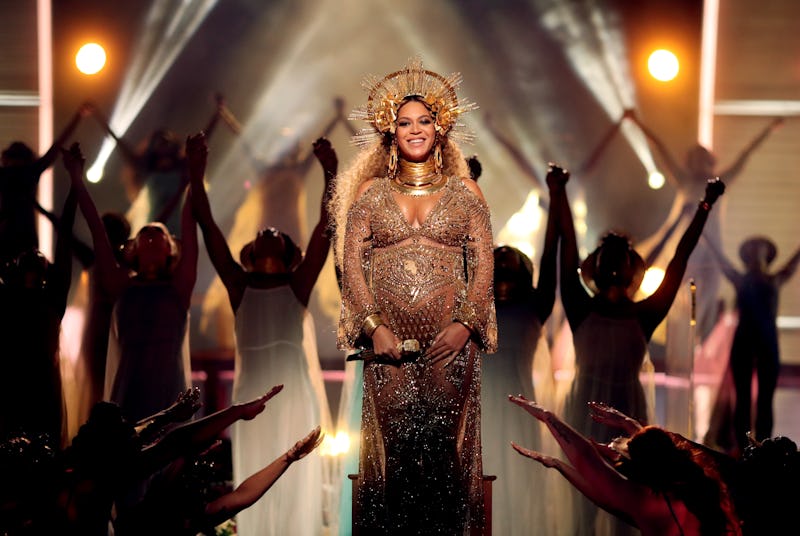 Christopher Polk/Getty Images Entertainment/Getty Images
The celebrity babies that everyone has been talking about have finally arrived, and it looks like we may finally know the names of JAY-Z and Queen Bey's twins: According to TMZ, Beyonce's twins are reportedly named Sir and Rumi. But why did Beyonce reportedly choose the name Sir? Let us look to the name's meaning for clues.
Sir is, according to BabyNameScience.com, a "very unique name." So, what does it mean? Eh, it probably what you think it means, i.e., according to Merriam-Webster, the word "sir" is defined as "a title before the given name of a knight or baronet and formerly sometimes before the given name of a priest," as well as "a man of rank or position." Sure, we know what the word "sir" means, but what about the name Sir? Might it signify something else?
BabyNamespedia.com says that the name Sir means "sire." Merriam-Webster defines "sire" as "a man of rank or authority," and Cambridge Dictionary references the old use for the word: "used as a form of address to a king." "Sir," as BehindtheName.com explains, also happens to be the Catalan form of "Syrus." And, according BabyNamespedia.com, one of the definitions for Syrus is "throne."
Sire, throne, knight, king — sense a recurring theme yet?
Obviously, Queen Yoncé and Hova's children are basically royalty, so if Sir is indeed one of their twins' names, it'd be more than fitting. Yes, it's not exactly the most traditional of baby names, but this is the couple that named a child Blue Ivy. Whatever name they settled on, no matter how bizarre it might be or how uncommon, the Beyhive is going to eat it right up.