This Is How Worried Trump Should Be About Impeachment Now That Democrats Hold The House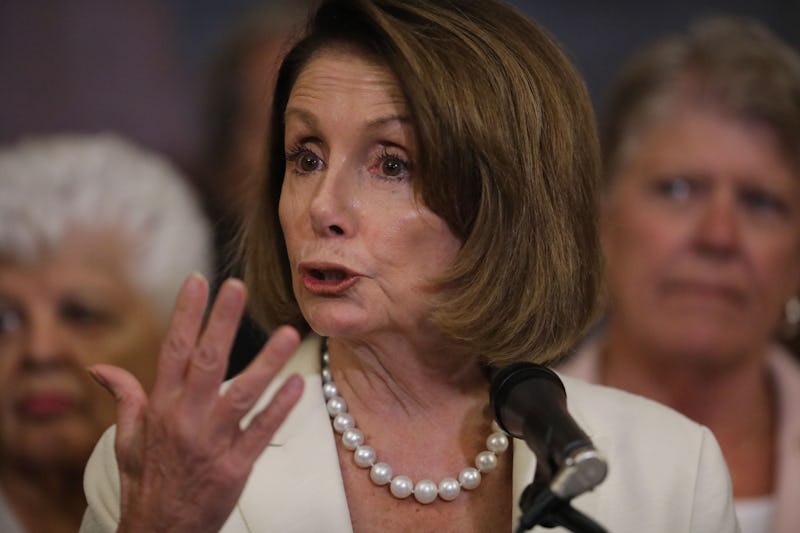 Chip Somodevilla/Getty Images News/Getty Images
Ever since President Trump won the 2016 presidential election, Democrats have considered the viability of impeaching him. But now that they've flipped some pivotal seats from red to blue, will a Democratic House impeach Trump? The party's leaders have been trying to underplay the possibility.
In an interview with PBS on Election Day, House Minority leader Nancy Pelosi said that it is unlikely Democrats will move to impeach President Trump, though the party now holds control. "But that is not unifying," Pelosi said to PBS reporter Judy Woodruff, adding that impeachment would depend on the outcome of Robert Mueller's investigation into whether the Trump campaign was involved with Russian interference during the 2016 election.
"And I get criticized in my own party for not being more in support of it, but I'm not," Pelosi said. "If that happens, it would have to be bipartisan, and the evidence would have to be so conclusive."
Pelosi, who has said she expects to be speaker of the House again, asserted Democrats would not behave the way Republican did under President Obama's time in office. "But we're not going to act the way they did," Pelosi said. "Again, for those who want impeachment and — that's not what our caucus is about."
Pelosi has maintained this stance for a while now. In May, as House minority leader, she said that impeachment was a "divisive issue" and "not the path the party should go on" while approaching the midterm elections, the BBC reported — especially if it were perceived as a partisan move. Pelosi has also described impeachment as "not a priority," but a CNN poll found that this stance may put a wedge between her and the majority of the Democratic base.
The CNN poll published in September found that 78 percent of Democrats believe that Trump should be impeached immediately. However, party leaders like Massachusetts Sen. Elizabeth Warren are hesitant to pursue such a path right away, and have instead encouraged Democrats to be cautious.
"I just want to be effective," Warren told CNN in August. "And the way that any of us are effective is to say, let's get all of the evidence. ... And when we've got that, then we can make a decision on what the appropriate next step is."
Unlike Pelosi and Warren, many Democrats have been much more vocal in calling for Trump's impeachment, suggesting that the party may be divided on the issue. California Rep. Maxine Waters, for example, has said that Trump should be impeached on numerous occasions, per The Hill. Texas Rep. Al Green has gone even further, by introducing impeachment resolutions against Trump.
Republicans — including Trump himself — have suggested that Waters is the true head of the Democratic Party, and have expressed concern that a Congress controlled by Democrats would seek to impeach Trump under her leadership.
The issue was also brought up on Tuesday with Kellyanne Conway, who indicated that House representatives would lose favor with voters if they spent time "investigating, instigating, trying to impeach and subpoena people."
For now, as Democrats celebrate their win in the House, it's unclear how the political dynamics will shake out within the party. Pelosi, a longtime Washington fixture, has made it clear going forward that she doesn't want to call for impeachment, but she might get pushback — Pelosi will have to work with a new wave of unapologetic progressives who made it to Congress for their ability to disrupt the status quo.
Angela Chen has contributed to this report.