Emison Will Take Things Slow On 'Pretty Little Liars'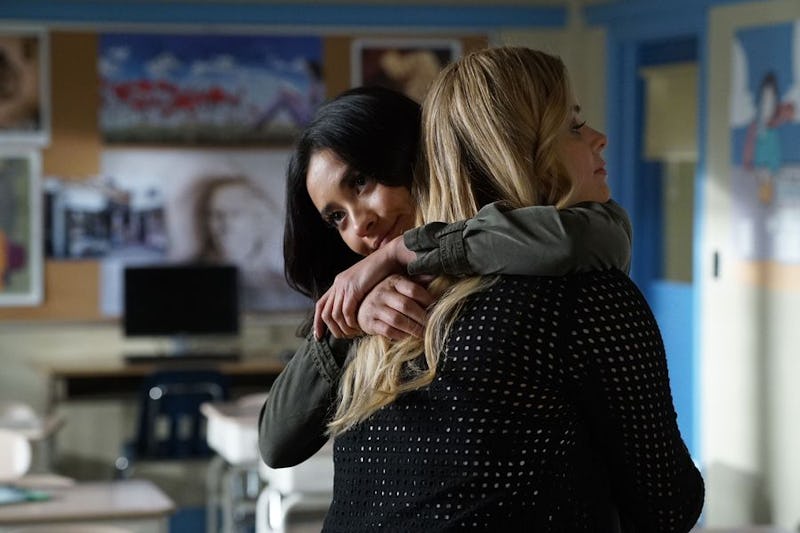 Eric McCandless/Freeform
Love is in the air on Pretty Little Liars, which is nice, because mostly this show just stresses me out. After seven seasons and years of doing that whole "will-they-or-won't-they" thing, Alison finally told Emily her feelings for her — she loves her! Hooray! This is especially convenient because Alison is pregnant with Emily's baby, since AD implanted Emily's eggs inside of Alison's womb (long story). But they've decided to make it work, which brings me to my question — will Emily and Alison get engaged on Pretty Little Liars?
Emily and Alison have made the harrowing decision to raise a baby — a baby they really didn't want — together, and that's commendable. It speaks mostly to how they feel about each other that they could happily bring this baby into the world, but I don't think that that means that these two are heading down the aisle anytime soon. Freeform can tease all they want about one more couple getting engaged, but I'm not convinced it's Emison that will get that ring. Alison has just admitted her feelings, and there was a bit of a make out session, but Emily and Alison have a lot more to talk about before they could get married.
What Emily and Alison need to do first is figure out how a baby is going to change their lives, both together and apart. I know they're both on board for this, but Alison is already giving a tude and forgetting to take her prenatal vitamins, and that will probably continue. She's hormonal and basically being held hostage by a baby she didn't plan for! Alison and Emily need to plan out the baby phase before the relationship phase! It's a bit of a reverse from the traditional model, but it's what is going to work for them and ensure them a future that's on solid ground. They know each other as friends, but they don't know each other as lovers, and they need to be parents first.