Dick Wolf's Reality Show About EMTs Might Be More Re-Run Worthy Than 'Law & Order'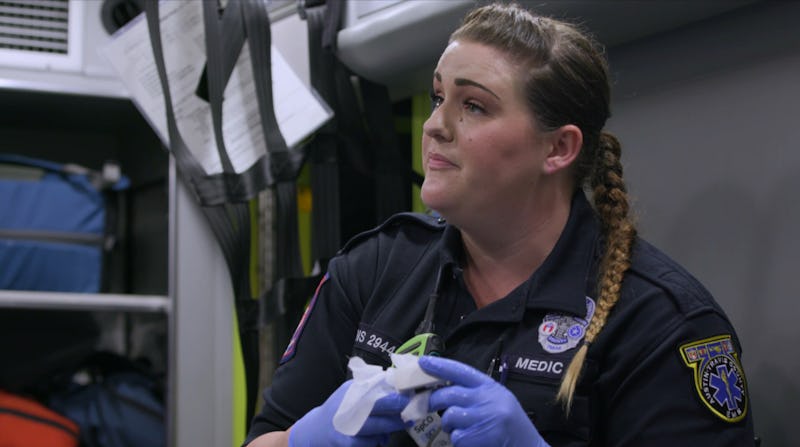 44 Blue/ A&E Network
If you're entranced by the plights of emergency personnel, floored by the thrills of the night shift, and obsessed with anything Dick Wolf puts forward, you're probably Nightwatch Nation's target demographic. The non-fiction series on A&E debuted this year, spinning off of another of the network's original series, Nightwatch, which ran for four seasons. Now, as its first season comes to a close, it remains unclear if Nightwatch Nation will return for Season 2.
According to the show's website, Nightwatch Nation "follows EMTs in Yonkers, New York, Austin, Texas, Tucson, Arizona and Baton Rouge, Louisiana as these real-life heroes risk their lives to work the busiest and most unnerving shift of the day, the overnight." It also boasts that there will be all manner of intense situations that most people can't even imagine themselves in, but a crew on deck that is trained to take on even the diciest of issues.
"The urgency is palpable as paramedics face an Internal Defibrillator that unexpectedly malfunctions in Tucson and a six-car pile-up that requires multiple ambulances in Austin. Racing from city to city, the series follow multiple teams of brave men and women who stop at nothing to keep America safe while we sleep," it continues.
Despite the network's excitement about the show, there still isn't any word from them on whether Nightwatch Nation will be sticking around. Due to the fact that it basically seems like the old Nightwatch under a new and improved packaging, though, it may have the same multi-season life that the former did.
Plus, Wolf doesn't play around when it comes to longevity on TV. In case you were miraculously unaware, he's the brains behind Law & Order and all of its spinoff versions, and also Chicago Med, Chicago P.D., Chicago Fire, and a slew of other shows you've almost definitely seen a trillion times. When he throws his weight behind something, it has a pretty great shot at going the distance.
Plus, the show has longevity built right into its format. It's not dependent on the schedules and contracts of actors, nor the need for a costume budget, a script schedule or set design. It follows real people — both EMS workers and patients — and that well of material is never going to run dry. Even if they eventually take it to another city in another state, or even another country, there are always going to be first responders pulling off astonishing stunts and saving lives like it's their job, because it is.
It's also a pretty easy watch that's not taking too much space away from anything else, and it's on a network that isn't necessarily decked out with prime time selections vying for space. It has a little room to breathe. When you're not feeling up to following a dramatic, fictional narrative, or watching something as dramatic as other reality TV, shows focused on emergency responders can offer an alternative that's both moving and easy to digest, and that in itself could offer Nightwatch Nation plenty of room to run as it toys with the idea of another season.