Without These Women, I Wouldn't Have The Drive To Succeed In A Male-Dominated Field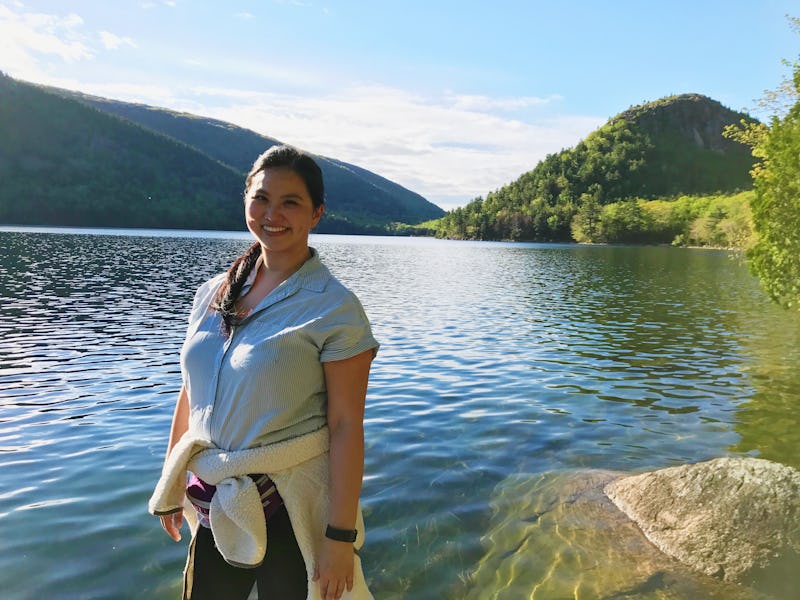 Courtesy of Aileen Wong
The power that comes from women helping other women is so often the driving force that gives us the strength to go further. As a Proud Sponsor of Strong, Your Local Ford Store and Bustle have teamed up to create this series of essays aiming to celebrate the women in our lives who shape us into the strongest versions of ourselves.
I had big dreams when I moved to New York. I was going to land the dream job as an editorial assistant at fashion magazine, or maybe dabble in TV production; I was sharp, organized, and had watched enough primetime television that I felt I could make a decent mockumentary. So after graduation, I threw myself into all the right job applications, and after whirlwind interviews and stress-inducing edit tests, I landed a job at a magazine — which is also where I met one of my best friends, Andra.
Andra and I were two young assistants, interviewing the people we saw on TV and living on passed hors d'oeuvres at sponsored events. When the time came for me to move on to explore an opportunity in TV production, Andra encouraged me to do so and she and I remained as close as ever.
Years passed as I climbed the TV production ladder, and while I loved my job, the hours were brutal. I would wake up at 7 a.m. to answer emails, then leave the office at 7 p.m. to run home to do more of the same until I went to bed. The stress took a toll on me — I started noticing clumps of hair in my bed and in the shower — and knowing something had to change, I put in my two weeks notice.
I gave myself a month off to figure out my next move. I started to think about what I truly liked to do, and even though in my wildest dreams I never thought of myself as someone who would enjoy computer science, it was in that post-dream job recovery that I noticed there was always a clear path of coding throughout my life. In high school, I modified the HTML and CSS on my angsty blog. In college, I worked on my university's student activities website and would spend hours tweaking the site and learning how to embed photos and videos. At my magazine job, I relished in the opportunity to write a piece for the website because I got to read over the code markup before it was pushed lived. Even in television, I hired a web developer to overhaul the company's website and then insisted on having him show me how each piece was put together and how I could make the changes. I appointed myself as web master and made changes any time a new show was coming out.
I started to play around with a few online coding tools and eventually found coding bootcamps. I decided to give it a shot, so I found a scholarship online, applied, and started school two weeks later.
I was terrified on my first day. I had fears that the lessons would be over my head, and I wouldn't be able to relate to my classmates because I had an entirely separate life before. During my first week of school, the teacher covered simple brain teasers, and since I had never coded a single line of JavaScript, I felt incredibly lost and didn't know if I would ever catch up.
Once I was in the class, the social dynamics were shockingly stereotypical. A handful of male classmates would speak over me during group interactions and were never willing to help once they realized how little I knew. I somehow always ended up in a group with at least one of them. They would talk down to me and re-explain things to me that the teacher had just explained, totally unprovoked.
My class was 70 percent male, which statistically was right on par with a recent annual report from a top tech company's workforce, where they reported a ratio of 69.1 percent male and 30.9 percent female employees. Sure, I'd worked in a male-dominated environment in TV production, but never like this. I had never been spoken down to or belittled professionally, and I hadn't anticipated that it would happen in a classroom as an adult.
Luckily for me, I found a life raft in the middle of this bizarre, testosterone-filled ocean. During my group interview for my scholarship, I'd met I met my friend Sarah, and to say I was relieved when I saw her walk into the classroom the first day would be an understatement. She sat next to me, and it felt like two kids on the playground asking to be best friends. We just clicked.
Sarah and I would work on assignments together and grab each other for pair programming. As a set, we felt like we were smarter, better, and faster coders. When one of us didn't understand, somehow the other one did. We would encourage each other when we were feeling frustrated about not understanding, commiserate together when we had no sleep, and sneak off to get ice cream together when we needed a break. We joked that wherever one of us got hired, the other one should apply there too, because we were better together.
Once we finished bootcamp, Sarah and I pushed forward together in our job search. We would meet each other at school to work on our portfolios, share job postings with each other, and practice interviewing.
After going on several rounds of interviews at various companies for six months and failing to land any offers, the call finally came from a recruiter for my dream company, NBCUniversal. I'd dreamed of working there since my days of pursuing a career in TV, but my fears of not being ready for a job like this one were starting to get the better of me. Thankfully, all it took was one simple and realistic conversation with my magazine friend, Andra, to bring the situation into perspective. "Why not hear what it's all about," she patiently asked me. Realizing she was right, I followed up with the recruiter, thinking that at the very least it would be good interviewing practice.
I dove right into prepping for the interview and reached out to the tribe of women in my life who had stood behind me, from my scholarship social worker, Kerry, who'd always been supportive of my transition, to my work wives of past media jobs, and let me tell you: they did not fail to deliver.
Andra combed through my resume and cover letter with the precision of the glossy magazine editor she is. Kerry offered to help me find some technical interviewing practice. Sarah gave me pointers on how to answer specific technical questions and practiced whiteboarding with me. Though I'd met each of these women at different moments in my career journey, each of them unflinchingly rallied for me at every moment along the way, and after a long interview process and lots of wishful thinking, I was offered my new dream job.
In my new position, there is so much to learn. There never seems to be enough time to understand everything, but my coworkers are patient and willing to help me whenever I have questions. I'm able build upon the skills I learned in school and can apply that to what I do in my day-to-day. I've harnessed my past experiences in team communication and applied them to helping onboard even more women to my team.
Changing careers from media to engineering has been one of the hardest transitions I've ever made. There have been more than a few days of feeling frustrated because I didn't know what I was doing, but I think about the tribe of women standing behind me, rooting me on as I continue grow. They are my greatest cheerleaders, and I'm grateful for them. These women have helped build up my confidence in something that was completely new, learn how to understand how I think, and most importantly have shown me how to put the pieces together.
This post is sponsored by Your Local Ford Store.
This article was originally published on