YouTube Has A Plan To Get Kids Reading More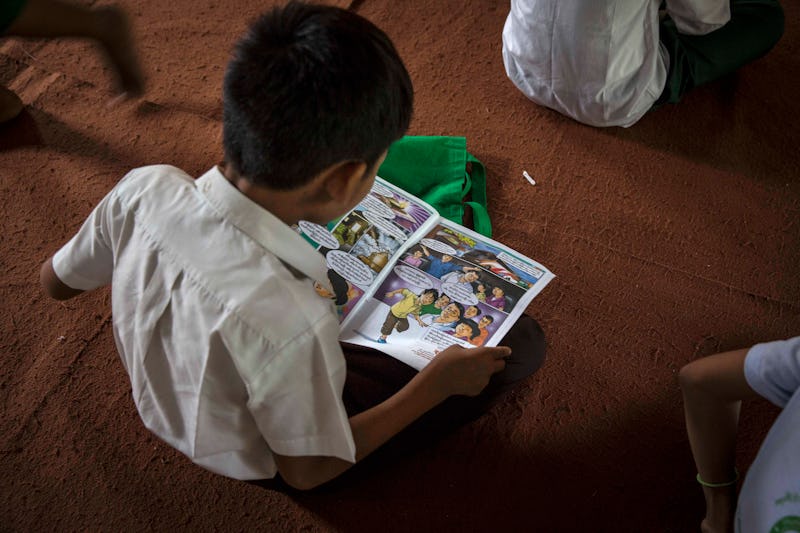 Lauren DeCicca/Getty Images News/Getty Images
A partnership between the YouTube Kids app and major U.S. book publishers — including HarperCollins and Penguin Random House — is back and better than ever. This year, YouTube Kids' #ReadAlong campaign wants kids to read more around the world. To that end, the 2017 campaign will run longer than the month of June, and will include many non-Western countries in Africa and Southeast Asia, such as Ghana, India, Kenya, Malaysia, Nigeria, Philippines, Singapore, South Africa, Tanzania, Uganda, and Zimbabwe.
The first #ReadAlong campaign launched in June 2016, less than two years after YouTube Kids made its app store debut. #ReadAlong 2016 featured content from children's publishers and the School of Rock Broadway showrunners.
This year, four top children's publishers — HarperCollins, Penguin Random House, Houghton Mifflin Harcourt, and National Geographic Kids — are involved with the project, and each will produce its own unique content for the #ReadAlong campaign. HarperCollins' #KidCritic features book reviews by kids, for kids. Penguin Random House's Brightly Kids channel already has a ton of storybook read-along videos, and more are on their way. Houghton Mifflin Harcourt will offer narrated fairytales daily throughout the month of June, and National Geographic Kids aims to introduce children to the world of nonfiction.
During #ReadAlong 2017, viewers will find exclusive content added to the YouTube Kids app from popular channels Pinkfong!, toycantando, ChuChu TV, and Bob the Train. The campaign will also feature other big names in children's entertainment, such as the ubiquitous Minions, and the Green Bay Packers' Martellus Bennett.