Kamala Harris' Off-White Suit Made A Powerful Statement About Diversity
Her look was "designed for powerful moments in history," says Prabal Gurung.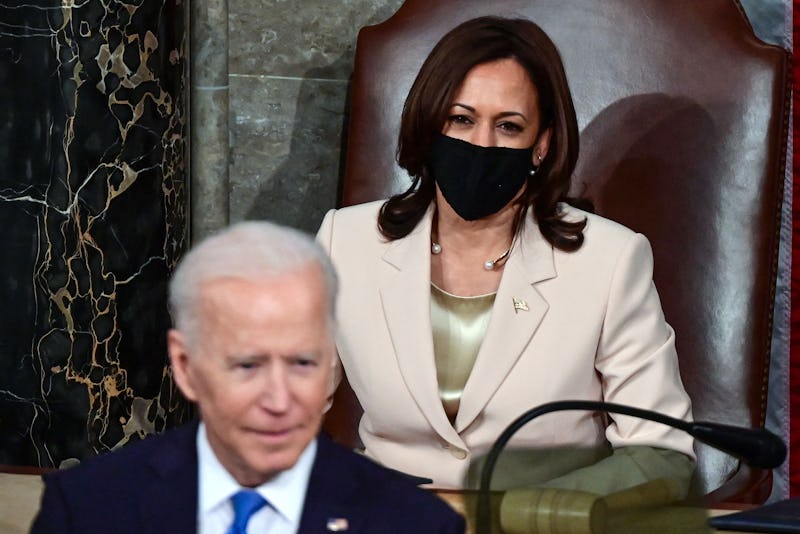 JIM WATSON/AFP/Getty Images
Vice President Kamala Harris sat behind President Joe Biden as he delivered a speech at the US Capitol on Wednesday, April 28. It was an appeal for a shift in immigration policy and though she has voiced her support on the issue in the past, this time, she chose to use her outfit to make a silent nod in favor of reform. In fact, Kamala Harris' Presidential Address suit sent messages about both inclusion and womens empowerment.
For the event, Harris chose a cream-colored suit designed by Prabal Gurung. Gurung is a proud immigrant from Nepal, born in Singapore, who often weaves inspiration from his heritage into his work. Harris' support of Gurung is even more meaningful when you consider that she is the child of immigrants from India and Jamaica.
Gurung took to Twitter to announce that the suit was not only his design, but also "designed for powerful moments in history." He added that it was completely made in New York City, as well.
Harris is not the only one to choose an immigrant designer for the event, as Vice President Jill Biden wore a dress with embroidered flowers designed by Gabriela Hearst, an Uruguayan immigrant who recently became a U.S. citizen.
Also notable is the color of Harris' suit. It's off-white tone could be perceived as a nod to the color of the suffragette movement, which celebrated its 100-year anniversary in 2020, the year Harris was elected Vice President of the US. Wednesday night also represented a historic moment for women as it was the first time two women flanked an American president for a speech to a joint session of Congress.