13 Things Couples Who Get Back Together After Infidelity Have In Common
"She confessed to everything."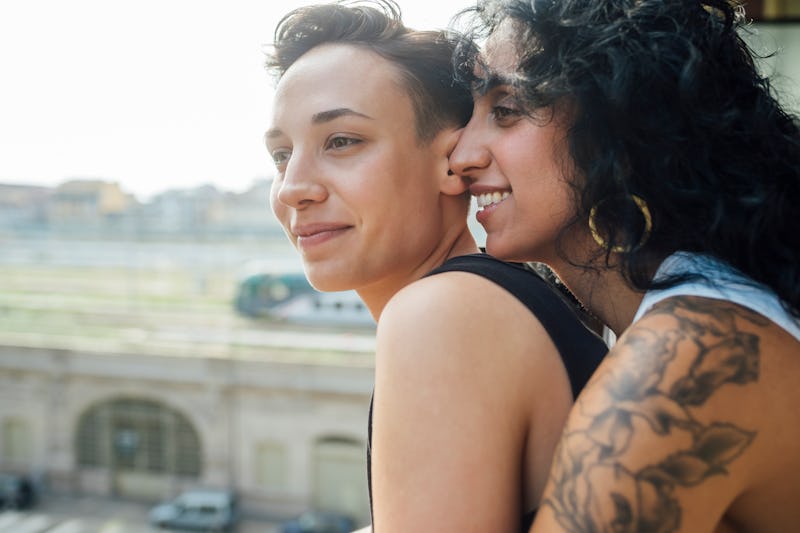 Westend61/Westend61/Getty Images
It may be tough to believe that some couples not only get back together, but actually have a successful relationship after cheating. However, relationship experts say that broken trust and hurt feelings can be worked through, without having to go your separate ways.
So, what do the couples who get back together after infidelity have in common, in order to make it work? According to Tina B. Tessina, PhD, a psychotherapist and author of How To Be Happy Partners: Working It Out Together, it all starts with their mindset. She tells Bustle these couples view infidelity as a problem to fix, instead of something that tears them apart.
Whether they can stay together after cheating also relies heavily on the changes they're both willing to make, going forward. If one partner continues to blame and vilify the other for making a mistake, Tessina says, then they'll only continue to suffer. Instead, they focus on rebuilding trust and forgiveness, as part of the healing process. And that almost always means going to therapy, establishing new rules, improving communication, etc.
There's no denying it's tough. And it's true that many times, breaking up really is the best and healthiest option. But if you want to hear more about successful relationships after cheating, read on below for stories from people who have been there, as well as thoughts from relationship experts about what else these couples have in common.
Experts:
Dr. Tina B. Tessina, PhD, psychotherapist
Dr. Josh Klapow, PhD, clinical psychologist
Dr. Gary Brown, relationship expert
David Bennett, counselor and relationship expert
This article was originally published on