A Day In The Life Of The @avokween Is A Lesson In Meaningful Movement
After years of hating her workouts, Ali Bonar found a way to transform movement into her meditation.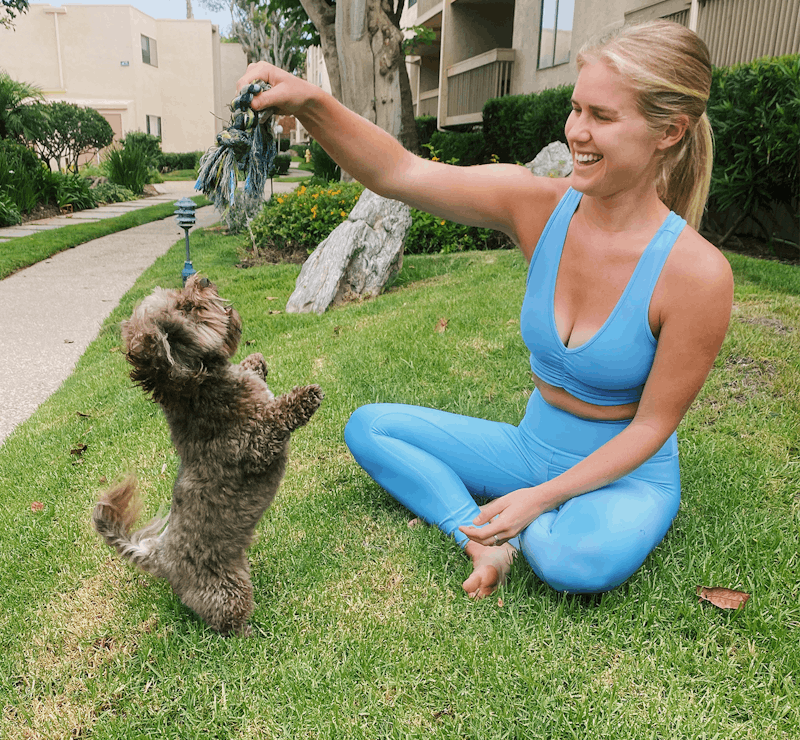 You may know Ali Bonar as the @avokween of social media, but she's also the princess of full disclosure. Her feed features everything from real talk about running her own business to her candid thoughts on body image. And in an especially refreshing move for a health and wellness influencer, she's incredibly honest about how her relationship with fitness has evolved over time. "I used to beat my body into the ground, taking 6 a.m. HIIT bootcamps five times a week and feeling guilty about rest days," she tells Bustle. "I was exhausted."
Eventually, Bonar realized she could find pleasure in working out by exploring different forms of exercise that appealed to her, which led her to gravitate toward dancing, pilates, and long walks. Once that small but meaningful change was made, Bonar's perspective on movement changed for the better. "I felt incredible, and my body loved the change to more low impact movement. Today, I have a very intuitive relationship with movement."
To learn a bit more about how Bonar was able to embrace this new perspective, Bustle teamed up with Light + Fit to catch a glimpse of a day in the life of the @avokween!
FROM A.M.
According to Bonar, the mood for her whole day can be determined by how she chooses to start it, making some meaningful morning movement all the more important. "I can be the grumpiest human alive, force myself to just do a 20-minute jog and I transform into Mother Theresa. It's wild," she says. A typical morning involves waking up around 6:00 a.m. and playing with her dog, Squishy, either at the beach or with a quick game of tug of war in her own front yard. By the time she gets home at 7:30, she has time to herself for a quick 30-minute workout that can range from a quick run, some stretches, or some weight training.
Capping off her morning routine is a sustaining breakfast, which features a rotating menu of go-to favorites: either a protein-rich serving of Light + Fit nonfat Greek yogurt with fruit, a smoothie made with Light + Fit nonfat yogurt and fresh produce, or a classic combo of eggs and (you guessed it!) avocado.
TO P.M.
When Bonar's workday begins, she hits the ground running… literally. Between interviews for her Kweencast and managing shipments of Kween Granola Butter, she's got her hands full!
But she's found a way to keep active even when her schedule is bursting at the seams, which is to take her calls on the go. "Pacing while taking phone calls" is a super simple way to keep yourself moving during your workday, she says. "It's crazy how the steps add up." After her meetings are done and orders are shipped, deep breathing helps Bonar wind down and segue from work @avokween to home @avokween. "I lay down on the couch and breathe for five minutes to calm down and transition to 'nighttime mode,'" she explains.
When the sun goes down and dinner has come and gone, you won't find Bonar in a clawfoot tub filled with bubbles sporting a clay mask. "That's not super realistic for me," she says, "I do love some TV, though — an episode of [my favorite show] and some good dark chocolate is my ideal night." Speaking of dark chocolate, try a few pieces broken up and mixed into a Light + Fit nonfat Greek Toasted Coconut Vanilla yogurt for the perfect decadent late night snack during your own marathon TV session.
To end her day, Bonar has mastered the art of using movement as a means of winding down. Follow her lead with a few simple stretches before jumping into bed, then let yourself indulge in some meaningful non-movement for the night. You deserve it.
This post is sponsored by Light + Fit.