Wall Pilates Is The Low-Impact Workout Taking Over FitTok
Who knew walls could be so useful?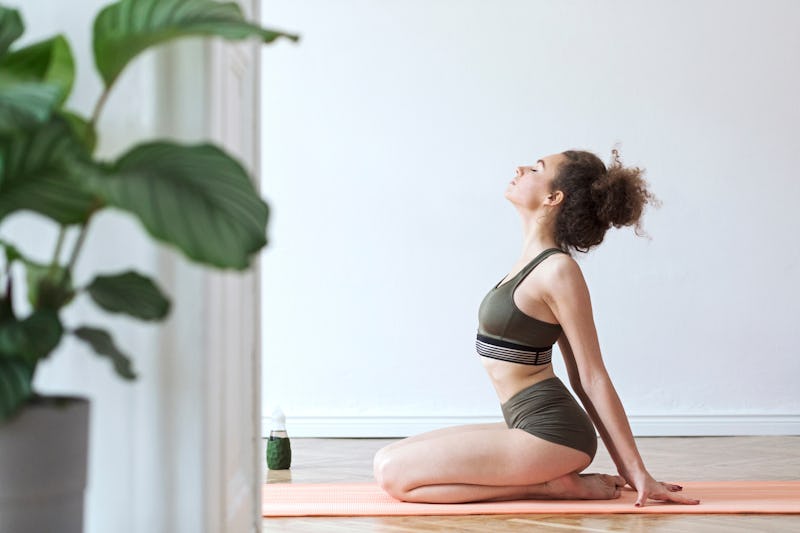 Shutterstock
Wall Pilates, a fitness trend that's been taking off on TikTok, is just what it sounds like: Pilates with a wall. Instead of doing bridges on a mat or one hundreds on a Pilates reformer, you shimmy up next to the nearest partition and use it as a support system while you exercise. A wall can add (literal) structure to your usual workout routine, and it can also take your usual moves up a notch by adding elevation.
Pilates has experienced a resurgence in recent years, which is likely one reason why the wall variety has quickly racked up over 6.5 billion views on FikTok. It also happens to be very versatile. According to Helen O'Leary, a physiotherapist and director at Complete Pilates, you can think about the wall as a prop, similar to a Pilates ball or ring. So the exercises end up being pretty similar to what you'd do in any other Pilates workout — save for some subtle differences. "Wall Pilates is different to reformer Pilates as you don't have the mechanism of the springs to resist and assist your movement," she tells Bustle. "Because of this, your resistance is your body weight."
Set up next to a sturdy wall and you can pretty much try any Pilates move you'd do on a mat. "Stretches are lovely here as the wall can support your movement and help you get deeper into your hip positions," O'Leary says. "Exercises like bridges also are very supported and you will find you get more spine mobility." To give it a try, keep scrolling for 9 of the best wall Pilates workouts you can stream on YouTube.
Source:
Helen O'Leary, physiotherapist, director at Complete Pilates